Attending Audio Shows and Dealer Events has been one of the highlights of my work life.  Aside from catching up with people and meeting new friends, I most enjoy the golden opportunity to interact about music.
Oftentimes I use these opportunities to gauge listeners' reactions to the songs that will eventually make it to "Philip's Demo CD" Series and "Philip's Playlists", not to mention a chance to be exposed to new music shared by fellow music lovers.  Watching the mad dashes in and out of rooms by audio showgoers, my eagle eye always zooms toward show attendees that carry records from room to room.
My curiosity always gets the best of me and I would not be able to resist asking what delights they brought to share.  I would return home, armed with a list of new music to research and audition and ideas to move around my playlists and the order of my Demo CD contestants.  So for this write up, I would start with the playlist.
Playlist with music notes can be found >>> here >>>
Alma Music East, 2nd Store New store opening, March 2023 in Sterling, VA with full Midrange Magic System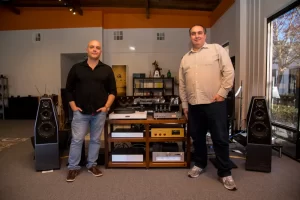 For CAF this year, collaborating with Fabio Storelli of Alma Music & Audio was something I had been looking forward to as this show marks their announcement to establish their second store and their physical East Coast presence in Sterling, Virginia to better serve their growing eastern-U.S. based clientele, Alma East, as we called it in short form.  Alma has had a very unique store with a strong customer base in San Diego for seven years.  In January, their new store in Virginia will be ready to open with Fabio's partner, Alex, to serve high-end audio enthusiasts up close and personal.   Go >>> HERE >>> to get on their mailing list to be notified about store openings and all the festivities.
Both Fabio and Alex are immigrants from Brazil but are certainly no newcomers in the high-end audio world as that was their business in their home country.  Their team smoothly managed four rooms at CAF.  While delighting the audience with unforgettable music experience, it provided the manufacturers and distributors like us an opportunity to work with their team hand-in-glove, passing on product knowledge and helping build enthusiasm for each experience.  No doubt, friendships were deepened that enhances future customer interactions.
New Product Debut:  Moonriver 505 Phono Preamp:
We were all delighted with the introduction of the Moonriver 505 phono stage, which upped the ante for our Midrange Magic presentation. Sonically, it's a huge improvement over the 404's built-in module; more texture, resolution, wider, deeper soundstage.  For me personally, as someone who use four cartridges on two adjacent turntables, I love the flexibility and the memory function on the inputs is a boon.
Details have not been announced about this gorgeous sounding phono preamp but stop by our room for the upcoming shows to hear it.
Live Performance: Canadian Harpist/Composer/Singer, Isabeau Corriveau, as we endearingly referred to as the best "Center Channel" ever heard in any room
Another delight from CAF was the honor to have the beautiful French Canadian harpist, Isabeau Corriveau, performing twice a day in our intimate listening room.  It was three years ago at CAF that Michel Plante, the Montreal Audio Show organizer, introduced me to Isabeau. We have since enjoyed her performances at both AXPONA and the Montreal Audio Show.
Not only is Isabeau a wonderful harpist and arranger of music, she is a stanch music lover who is happy to share her craft.  With Isabeau, we played songs from her album – "A Leap Of Faith" on LP and she played & sang, accompanying her recording.  During some of the performances, she played unaccompanied and left the audience spell bound, as she cast her musical spell across the intimate room.
We have heard from many attendees commenting independently but feeling in unison, that hearing Isabeau play her Celtic harp in our room was the musical highlight of the weekend.
With Isabeau Corriveau playing between the two Graham LS8/1 speakers, many listeners commented that this triphonic system was even more realistic than stereo; it had the most realistic center-fill that they ever heard.  Isabeau really added the live music dimension to the listening experience.
Thank you for the press coverage and fun sharing!

"… With promises of serious sound, female entertainment, and triple-distilled whiskey, I fell into their room and almost spent the night ..  Corriveau's lush, resonant Celtic music, played on a Bergmann Modi + Thor turntable, enchanted my brain and filled my senses … her lovely accent spinning my head silly … This petite system played Corriveau's acoustic reveries and Basie's blowout sonorities with equal energy, grace, and power. Color me satisfied…" – Alma Music/On A Higher Note/Bergmann/Graham Audio/Moonriver/Kubala-Sosna/Artesania by Ken Micallef

"O'Hanlon … introduces each song with a delightful story, talks about midrange magic but I put midrange in quotes in the post title because this system was pure magic, delivering grace, charm, and intimacy by the bucket." –  CAF 2022: Alma Music & Audio and On A Higher Note's (Midrange) Magic, by Michael Lavorgna
We had a few music sessions after the show with industry colleagues just kicking back and reconnecting.  The fine wine, our Red Breast 12 YO Irish whiskey, fine music & great company leave us each time with memorable evenings to top off the show experience.
Thank you my friends, see you next year in Florida in February, Montreal in March, Chicago in April, Munich in May and Newport Beach in June
Notes:  Equipment List: