Category Archives:
Latest News
Showing 6 posts of 6 posts found.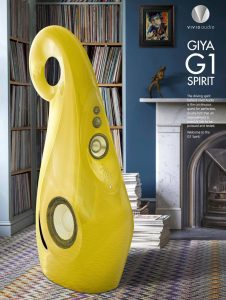 Vivid Audio launched their new flagship speaker over the past weekend at the Tokyo International Audio Show and at the Hi Fi Messen in Norway.
The driving quest behind Vivid Audio is the continuous quest for perfection. The designer Lawrence Dickie regularly points out the importance of "reducing resonance and reflection" at the core to create the cleanest window into the music. As he said in a talk in Europe recently, "when you first hear a Vivid Audio loudspeaker you may well think there is something missing – well you would be correct, what is missing is colouration."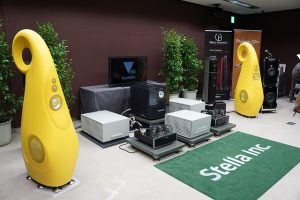 GIYA Spirit is the culmination of eight years of work during the development of the GIYA line where it became obvious that should we build a new GIYA flagship speaker we would make noteworthy advances to the product line by doing so. The Spirit projects the logical enhancement of our flagship speaker, the GIYA G1 to the Spirit.
Spirit has come about because of the incredible performance it is able to deliver due to these numerous enhancements. Spirit utilises a completely new carbon stiffened 125mm low mid driver which has a flat frequency response to beyond 10khz! This is certainly a world first.
The C225 bass units now use a motor assembly able to handle double the power of the current G1 design. A 100mm copper clad aluminium edge wound single layered voice coil is used for the first time. The new D26k and D50 drivers (B1 Decade style), are used in conjunction with these new drivers. New cross over topologies are implemented with new components exhibiting improved thermal tracking. High quality 99.9% OFC copper air cored inductors are used throughout.
If you thought that the Giya G1 had state of the art bass, then you will be bowled over when you hear what the redesigned 11 1/2″ woofers are capable of. With twice the power handling, greater excursion, larger diameter voice coil and neodymium magnets that are approximately twice the size of the regular Giya G1's woofers.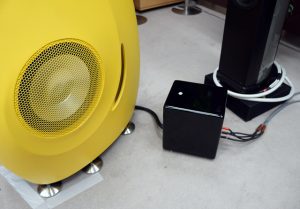 The lower midrange woofer has also been updated and delivers a fuller, richer midrange compared to previous Giyas. The highs have not been forgotten; building upon the crossover technology designed for the B1 Decade, the high frequency performance is now airy & silky smooth. A new cabinet design with extensive new bracing and strengthening, that is 4″ lower than the Giya G1, puts the tweeter on axis with the listener's ears. Finally, the crossover has been removed from the speaker cabinet and placed in its own carbon fiber enclosure. Thus removing the crossover components from the vibration inside the cabinet itself; giving a purer less corrupted musical signal.
We will announce at a later date the official launch of this exciting new reference caliber loudspeaker system and also plan on showing these at CES 2017. Stay tuned.
What started off as a quick trip to Music Lovers Audio to collect a precious cargo, the Vivid Audio B1 Decade, turned out to be a blast from many standpoints.  We had the debut event a couple weeks prior in Berkeley, California (show report to be issued next week) and we needed to collect the loudspeakers in time to stage them for our CES 2016 penthouse suite demo room at the Mirage Hotel.
Personally, "precious cargo" has double meaning as our son and daughter decided to join in on this road trip last minute to visit with their photography friends in San Francisco.  It was so festive at Union Square and in downtown San Francisco with bustling music and beautifully decorated Christmas trees everywhere.  They claimed it was their best trip to SF ever.
From a surprise factor standpoint, rather than just collecting the B1 Decade, Music Lovers owners decided that we should move the loudspeakers from their Berkeley store to the San Francisco store for their salespeople to have a listen before we take them away.  Then word got out to a couple of their customers who joined in.  With just a few of us in a private listening session, taking turns to play DJ,  savoring our favorite tunes and being introduced to new ones, we all had a blast!
The listening room in San Francisco measured 16 X 23′, which is a little smaller than the 500 square foot Berkeley listening room. The smaller room was truly magnificent and in my opinion, a better match than the Berkeley Reference Room for these limited edition 10th anniversary commemorative loudspeakers.
This experience actually made me sharpen my pencil in staging our CES listening room so the B1 Decade will shine to show off its best as the Mirage suite is yet a little larger than Berkeley's Reference Room.  A work around is in store.
Anyways, back to Music Lovers' San Francisco Reference Room.  We were listening to Depeche Mode and honestly, the bass from "Welcome to My World" off of Delta Force was truly remarkable. What Laurence Dickie is able to get out of four 5-inch woofers is mind-boggling. During the crescendos, more instruments were added, each playing different strands—all of which could be followed, while remaining perfectly coherent. Meanwhile, the bass was tight, well-defined and played louder and deeper than seems possible when you see how relatively compact the cabinets are.
We used this opportunity to invite the audience in this private listening session to be our impromptu listening panel to help us pare down a rather large playlist to finalize our annual demo CD for CES.  This has always been one of the most difficult tasks as every song on the list is screaming at us to stay on.
We played one of our favorite tracks which we've been playing all week, Adele's "Hello". In fact, we've been frantically reaching out to our friends looking for a high-res version to place in the compilation. However, with this being the week of Christmas, finding a decision-maker who isn't on vacation to grant permission to use the song has been extremely difficult.
We recorded a couple of tracks from the LP using different turntables and phono stages so we can evaluate them separately and choose which version does the best justice to the musical integrity.  On reflection, using a different song from the album 25 might be a better idea anyways, as "Hello" might already have been overplayed.
While we have not finalized the compilation as of this writing, the good news is that Demo XVIII promises to be better-sounding and longer than previous demo compilations.  Where available, we downloaded the high-resolution versions of the songs on the list to compare to the record rip.
The bad news is that we are using versions of songs that are not available on Tidal so there is a bit of hunting for those who want to go shopping with my playlist. Apologize in advance for that.
Anyway, this year, we will be posting the Demo XVIII Playlist in advance of CES 2016 on New Year's Day here on our blog so check back here.
We hope to see you at CES 2016 and we wish you a happy holiday season.
We are very excited to announce that the first production units of the new B1 Decade (limited edition) (retail $28,000) shipped last week from South Africa. The B1 Decades are available in Piano black or Rosso Barchetta (see photo).
The B1 Decade U.S. Launch is scheduled for this week on the 5th of December at Music Lovers Audio in Berkeley, CA. Reserve your seat. Canadian launch is tentatively scheduled for the end of January at Coup de Foudre in Montreal.
Vivid Audio is known for its engineering-based design philosophy where new products are only introduced if they feel that these products offer significant improvements in performance and technological advancement. This debut event is a great opportunity for audiophiles and music lovers to be one of the first to hear what Vivid Audio promised as a sound that is worth every bit of the "Decade" honor.
"The B1 Decade is the culmination of the essence of our development efforts from the last ten years to deliver a new product that far exceeds the performance level of any of its peers at similar price point. You really need to hear it for yourself," Laurence Dickie, Vivid Audio's Chief Designer explained.
Learn more about this event and reserve your seat for "Is the Artist in the Room", second in a music seminar series, set for this Saturday, the 5th of December in Berkeley, California.
U.S. B1d Debut
December 5th in Berkeley, CA at Music Lovers Audio. Get details about this event and reserve your spot.
Canadian B1d Debut
January or February 2016 in Montreal at Coup de Foudre. Exact date pending. Get details about this event and reserve your spot.
Vivid Audio to debut their new addition to its OVAL Series Family, a limited edition revised OVAL B1d—November in Montreal at Coup de Foudre and December in Berkeley at Music Lovers Audio.
At US $28,000, the B1d loudspeakers assume the flagship position in the OVAL range due to its incredible performance and advanced construction. On display at the Munich High End Show, listeners were amazed at how the B1d produced sound quite close to one of the company's GIYA offerings.
Vivid Audio's tweeters are constructed with vapor deposits of aluminum and magnesium alloy. Extremely light-weight, these tweeters are driven by a hugely powerful magnet structure with rare earth metals, making them super-efficient with a remarkable performance at 98 dB. Historically however, these tweeters have been finger magnets with foil assembly that are extremely fragile.
In this revision, Vivid Audio's Loudspeaker Designer, Laurence Dickie, pushed the envelope yet further to introduce new "finger-proof" designed tweeter grilles, offering additional protection without compromising the sonic performance. Tweeter grilles on the production units are injection molded with slightly tighter tolerances than the prototype introduced in Munich produced by 3D printing. While this new OVAL B1d looks similar to the existing OVAL B1, there are key differences best summarized by the chart below:
Key differences the Decade Edition Oval B1d has from the original OVAL B1

| Features | Benefits |
| --- | --- |
| GIYA type vacuum infused quadraxial glass cabinet | Offers reduced mass and increased rigidity |
| GIYA G4 mass driver motor assemblies | Offers greater shove resulting in fuller tighter bass and better LF definition |
| New D26 and D50 driver trim rings | Offers better protection to the driver diaphragms |
| Completely new filter topologies | Yields a more open better defined soundstage |
| New shaped ports | Matches the new bass loading |
| New formed baffles front and rear | Offers a modernized appearance and lower diffraction |
| New full GIYA type magnetically coupling grilles front and rear | Quicker, easier and safer grille on, grille off endeavors |
| New terminal tray position | Easier access for spade type connectors |
| C125 driver with magnet segments immediately adjacent to the voice coil | Boosts the mid and high frequency performance |
Vivid Audio celebrates their 10th year anniversary with the iconic B1 Decade loudspeakers in limited edition. Combining the merits of the latest driver technologies in an oval-shaped GIYA-like composite cabinet, this loudspeaker is symbolic of the decade of Vivid Audio's experience in the high end audio industry.
There will only be 200 pairs of these extraordinary loudspeakers made, each individually labeled indicating the number in the limited series. Full production is expected in October, 2015. Pre-orders are currently accepted at your local dealers. Upgrades for tweeter grilles from current OVAL B1 owners are available with details to be announced in October.
Call +1 949 544 1990 or contact us to reserve yours now. Learn more about the Canadian B1d debut at Coup de Foudre here or about the U.S. B1d debut at Music Lovers in Berkeley, California here. Seats are limited so reserve your spot now.
Vivid Audio loudspeakers are designed for music lovers, audiophiles and homeowners that are "in the know" (#LoudspeakersInTheKnow) as every intricate detail in form is driven by its derived function, with museum quality aesthetics in mind. Vivid Audio is a continuous silent revolution. While many know about the original innovation, dating back to the B&W Nautilus, the innovations embedded in the Vivid Audio GIYA family are generations passed Laurence Dickie's original invention. Vivid Audio flagship GIYA G1s have unofficially been updated and this writing is my attempt to summarize noteworthy improvements to-date, announcing (unofficially) that the second generation G1's (and G2's) are shipping now.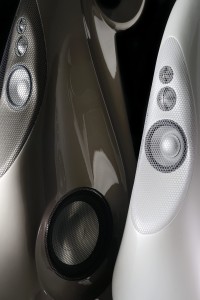 Since the launch of the GIYA G1s in 2008, Vivid Audio's designer, Laurence Dickie, embarked on a 5-year "Honey I shrunk the speakers" project, resulting in the debut of a smaller version of GIYA every other year. Starting with the G2, then G3 and concluded with the GIYA G4 speakers.
Necessity is the mother of innovations. Everytime Dic shrinks the speakers, he took on new improvements in parts and sum of parts in order to continue to deliver the Vivid Audio GIYA sound in smaller and smaller packages. Last year, Vivid Audio unofficially started a major update of the flagship GIYA G1s to incorporate all technological innovations embedded in the GIYA family to-date, with many positive gains in performance, functionality and utility.
Of note firstly, is the 0.75 db gain of efficiency for the overall G1 and G2 performance as a result of the new more efficient crossovers developed when designing the G3's. These crossovers are mounted on a carbon fiber platform at the base of the cabinet. These new crossovers are now incorporated into all current GIYA speakers, delivering a consistent Vivid sound across the GIYA family line.
Dic's vision for the Vivid Audio speaker line is to offer "a transparent window" to listeners' music and consequently, he takes the job to eliminate coloration very seriously. As such, another noteworthy set of improvements to speaker performance has to do with cabinet aperture when it comes to the cavities for the drivers:
The new G1 woofer cabinet apertures were altered to eliminate air pressure leakage. This change tightens up the cabinet considerably (essentially airtight), allowing the reaction-cancelling woofers to deliver the base performance they truly are capable of.
Vivid Audio got rid of the plastic caps they used to use to protect the tweeters (the D26 and D50 drivers) from being damaged while they are being unpackaged. Instead they now place a soft foam cover that we only remove after the speakers are in place in the listening rooms. So what does that have to do with ridding coloration? You must read on.
Turns out that in order to fit the old plastic caps on, the cavities of the cabinet were ever so slightly larger than what they need to be. Vivid Audio found that the difference was audible and could be seen on a spectrum analyzer. The aperture in the updated cabinet created a tighter tolerance that is both audible and measurable.
In addition, internal bracing has been added in the cabinet, making the cabinet more inert and even less prone to resonance, giving an even tighter bass than before.
Aesthetically speaking, GIYA is an artistic functional statement. Staying true to its commitment to bring to the market world class finishes, Vivid Audio recently adopted the world's leading paint supplier, BASF, as their paint supplier. This allows Vivid Audio to offer matching paint finishes universally represented and specified by all major European automotive manufacturers.
From a packaging standpoint, the GIYA speaker range also receives a face lift, increasing the ease of use for both dealers and consumers:
New cylindrical polyamide feet (12 per accessory pack) are now shipped with GIYA speakers. These are ideal for hardwood floors
Crates come with newly improved industrial grade rubber wheels
Accessory pack is upgraded
New tamper-proof printed serial number stickers
New high quality printed user guide with protective sleeve.
Indication on the outside of the crate as to its content
If you want to hear your music the way the musicians and artists originally intended while making an enviable statement that you are one of the music lovers, audiophiles or homeowners "in the know" (#LoudspeakerInTheKnow"), give us a call or send us an email to arrange for an audition.
In music, Philip O'Hanlon, President, On A Higher Note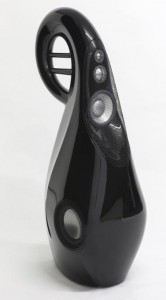 Many audiophiles and music lovers approached us during the NY Audio Show as to where they could hear the diminutive G3 Giyas (just 3'9″ tall).
These speakers punch way outside their class. Truly, they have to be heard to be believed. Just as the G1 & G2 have won many awards across the world, no doubt the G3 will continue Vivid's ascent. The Giyas are probably the most innovative & original speaker design so far in this century.