AXPONA
The Westin O'Hare | Chicago, IL
April 15 – 17, 2016
Our AXPONA 2016 show report is late, but we finished it! We spent most of our time in Kyomi Audio's room (Wells Room), playing both vinyl and high-res digital music. We also played DJ for an hour each afternoon in Music Direct's room (Rosemont 3).
Inside Wells Room (Kyomi Audio)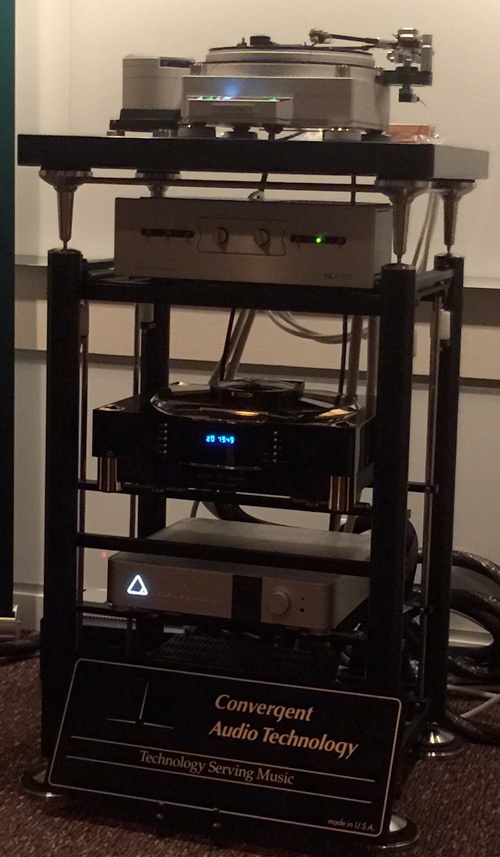 The system in the Wells Room (Kyomi Audio) had a wonderful rich sound, with AJ Van den Hul spinning records most of the time. He is a very lovely sweet man.
The system from the top:
TechDAS Airforce 3 turntable, Graham Elite tonearm, Van den Hul cartridge all sitting on an Artesania KRION turntable platform
CAT preamplifier
MBL CD Player
Marten – Coltrane 3 speakers
George Vatchnadze of Kyomi Audio always makes great sound and this year's AXPONA was no exception.
Awards
Positive Feedback Online – Audio Oasis Award
David Robinson of PFO awarded the Wells Room (Kyomi Audio) an Audio Oasis Award. Thank you, David!
Holy hell! Here was another room that had my pants a-flappin' and my ears rejoicing!…When I went into the room, I was treated to some really serious audio lusciousness…with Artesania Audio supplying their EXOTERYC Rack and KRION Turntable Platform. Also featured were the brilliant Merging Technologies NADAC Quad DSD DAC…Great soundstaging and imaging; excellent harmonics; seamless integration from top to bottom, and right back up. I didn't hear any downside at all here."
Read the full article on the PFO website.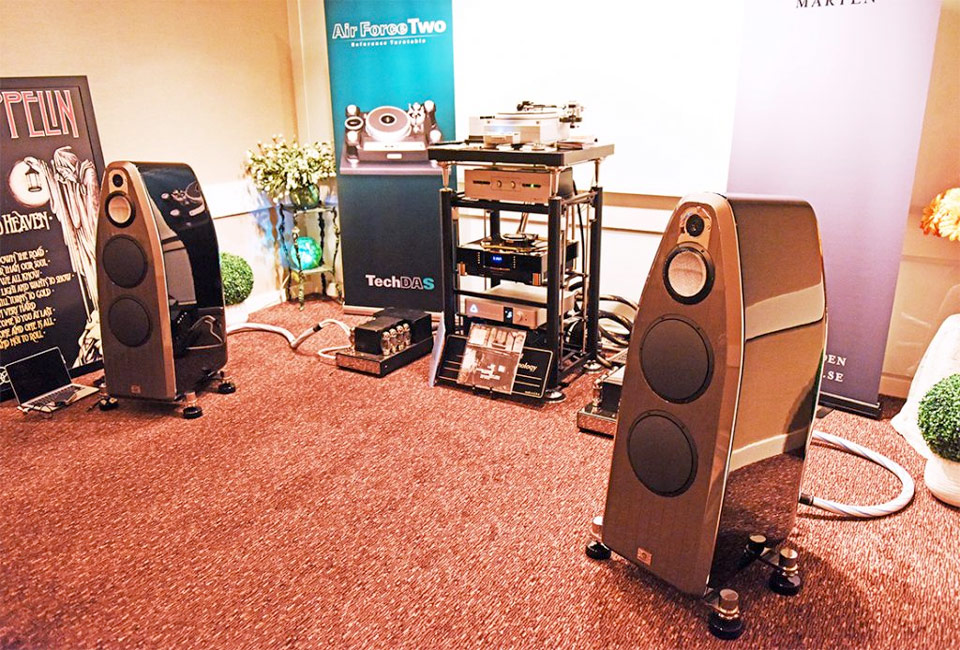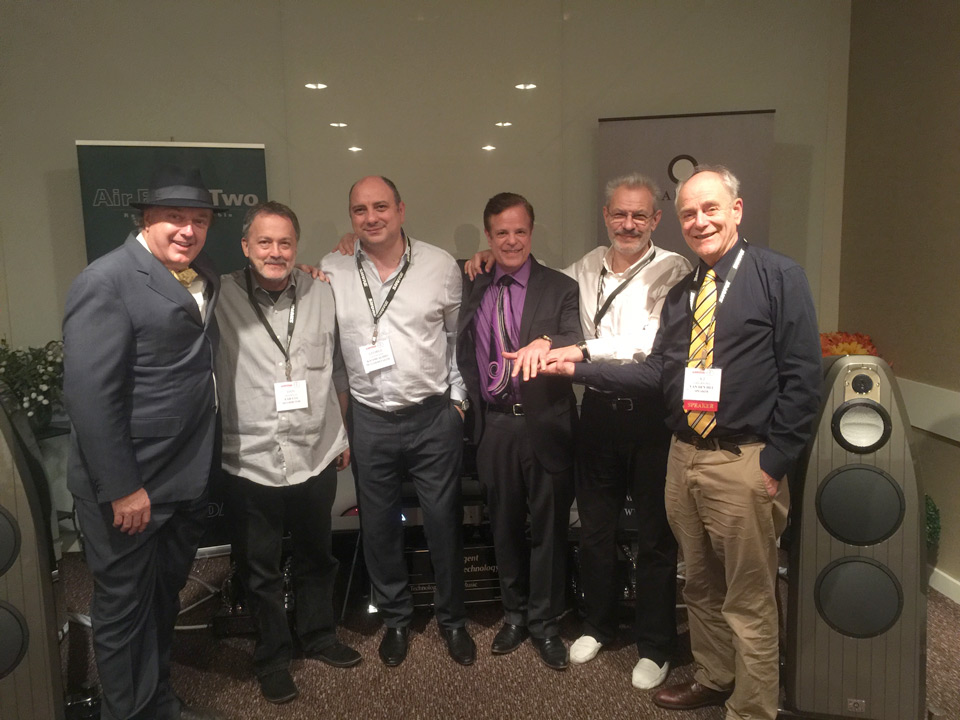 Informal Debut of Luxman MQ-300
Luxman's new MQ-300 was on passive display, but we got a chance to hear it during an after hours listening session. Jerome Andre of Avantgarde hooked the MQ-300 to a pair of Avantgarde Uno loudspeakers—the purity of Luxman's SET design was immediately apparent. It was tonally rich and had a midrange to die for. The fit and finish of this amplifier is absolutely remarkable. Can't wait for Luxman to release the matching 90th Anniversary preamplifier in the Fall—the Luxman CL-500 in the matching piano red lacquer. It should be stunning!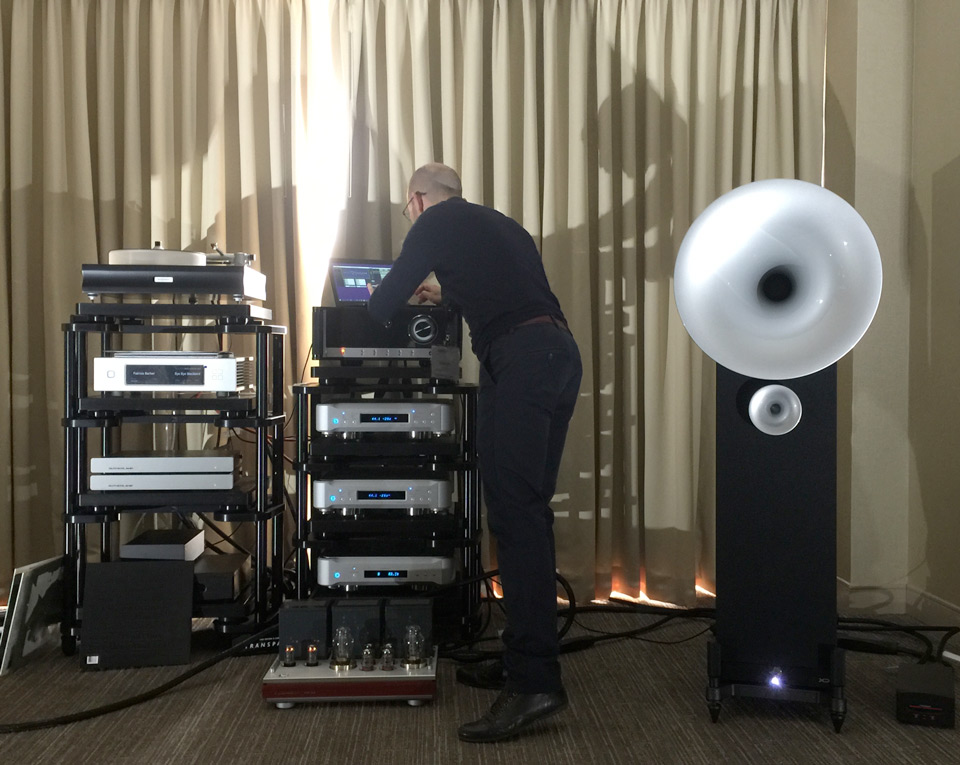 Inside Rosemont 3 (Music Direct)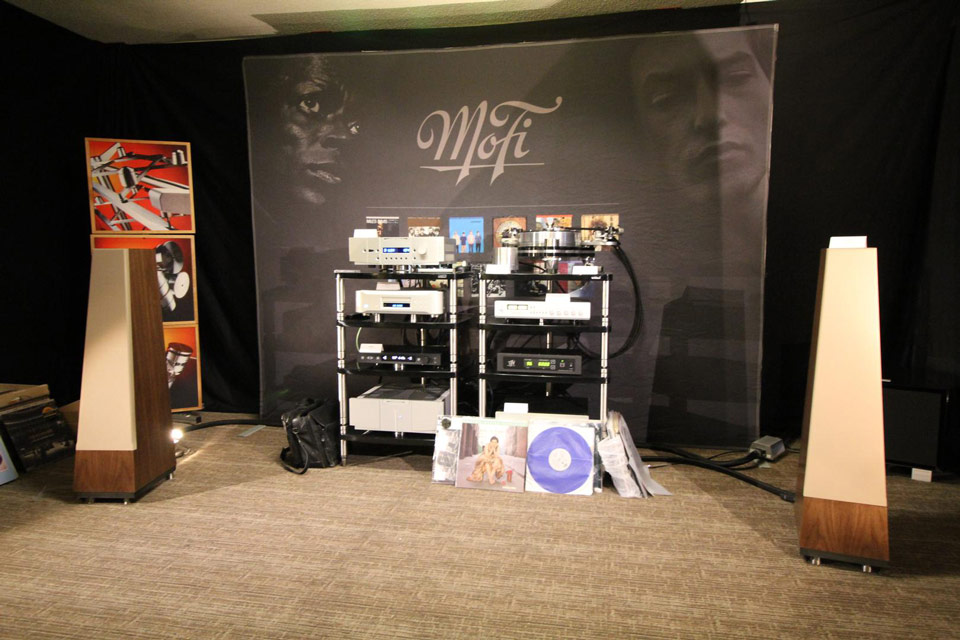 We spent an hour each afternoon during AXPONA in Music Direct's room. We contributed the Luxman EQ-500 to that system. The highlight of this room was playing the Mobile Fidelity test pressing of the Santana LP Abraxas. We own this album on CD and SACD, plus we own every vinyl reissue that's been released over the last 40 years. The Mobile Fidelity test pressing Music Direct's VP Josh Bizar played at AXPONA this year blew them all out of the water. By the end of Side A, the audience was clapping in applause. This very limited edition LP, using Mo-Fi's new one-step plating process, should be available in August or September. You can read more about this album and Mo-Fi's one-step plating process, as well as about other noteworthy music from this year's AXPONA at The Absolute Sound.
Press

"Extremely musical system" at AXPONA with Luxman EQ-500, by Stereophile's Jason Serinus

"Philip O'Hanlon, Luxman's US importer teamed up with Mobile Fidelity, VPI, Shunyata, Balanced Audio technology and REL to showcase a wonderful system…showing off a number of pristine vinyl pressings courtesy of the Mo-Fi team. Philip also provided his latest Demo CD (number 18!) with a wonderfully diverse selection of tunes to show off some systems capabilities."
Read the full show report from The Absolute Sound here.
Equipment List
Passive Display
Active Display
Wells Room on the lower level (Kyomi Audio)
Rosemont 3 (Music Direct)