Category Archives:
Show Reports
Showing 10 posts of 37 posts found.
T.H.E. Show Newport 2016
The Hotel Irvine
June 2 – June 5, 2016
For a change this year, we teamed up with one of the most famous audiophile retailers and custom system designers in the United States. Also a recording engineer and record producer, Joseph Cali started out as a sales person at Audio Exchange in Manhattan in the 70s. After selling a stereo system to a casting agent, the agent asked him to read a part for an upcoming movie. That movie—which Joe subsequently starred in—was Saturday Night Fever. (More info on Joe's acting career can be found here). In the early 80s, Joe decided to return to his passion and began working with Chris Hansen selling high-end audio systems. In the early 90s, with the help of Mark Levinson he founded Cello Music & Film Systems. He also met future wife Lori Lieberman.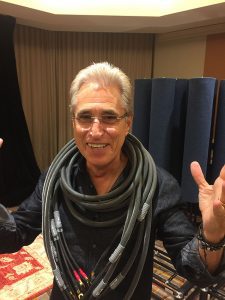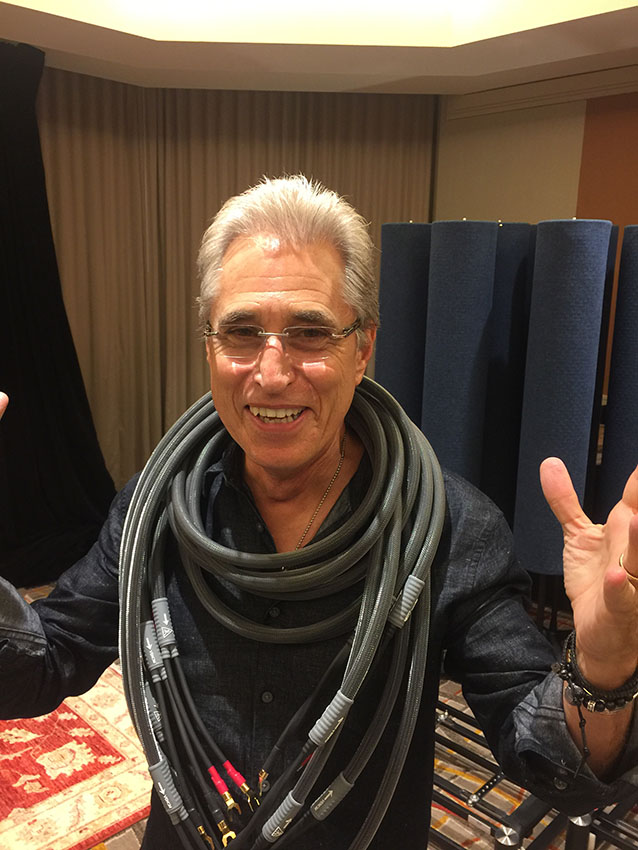 Today, Joe runs a successful custom install operation (Joseph Cali Systems Design out of Santa Monica, CA) that services the A-List celebrities and the leaders of the entertainment industry. His client list includes Oprah Winfrey, Les Moonves, Dr. Dre, Irving Azoff, Jimmy Lovine and more. Joe also records all of wife Lori Lieberman's albums and is also her tireless promoter. Joe not only arranged for Lori's new album Ready For The Storm to be released during the Newport Show on 180 gram vinyl from Chad Kassem's QRP, but also had the Lori Lieberman Band play on Saturday afternoon in the Pavilion.
Joe was kind enough to bring his personal pair of Vivid Giya G2s for the front channels, while we used a pair of Giya G3s for the rear channels in the 'Pelican Hill' Room at the Newport Show. The mandate was to show audiophiles how a world class stereo system could be incorporated into a cutting edge home theater. We also wanted to demonstrate how accessible high resolution 4K video could be from devices as simple as a Roku 4 streaming video device over wi-fi in our room, a Kalidescape movie player with downloaded UHD movies and the new UHD, HDR BluRays. We opted to skip the center channel so it wouldn't spoil the imaging of the stereo soundstage (the room geometry limited the depth and height needed for a center channel speaker behind an acoustically transparent screen).
Show Highlights
We were fortunate to be able to demonstrate for the first time in North America a combination of newsworthy (certainly to us) music and listening platforms:
Multi-channel Roon, scheduled for delivery by CEDIA (September). Beta software that proved to be quite stable.
Merging Technologies NADAC Player running a Roon Core, scheduled to launch at RMAF 2016. Controlled by an iPad. Storage can be a USB hard drive and/or a NAS on the network. Pricing TBD.
Channel Classics multichannel session recording of Mahler 3 in DSD256. Recorded in April by Tom Caulfield (5 x B&K mics in a DECCA tree) at the Bela Bartok National Concert Hall in Budapest. Ivan Fischer conducted the Budapest Festival Orchestra. This album will be released around the end of this year. Even playing this at home in stereo, the winds are about 20′ to the left from the listening chair, while the bass drum is approx. 50′ away, also to the left of the soundstage and clearly well beyond the boundaries of even our large listening room.In the unedited version of the first movement you will hear Ivan Fischer instruct the percussionist as to how he would like the bass drum to sound a little crisper. You can clearly hear, how far each is speaking relative to the microphones and you get a great handle on the Hall's acoustics. This album gets my vote / recommendation as the best acoustic recording of 2016.
Luxman B-1000f monoblocks fed by a line conditioner — Joe insisted that we bring Luxman's big guns to the show as he wanted to demonstrate effortless dynamics. So we brought Luxman's flagship B-1000f monoblocks, reviewed by Wes Marshall in Stereophile in February 2011. It was the first time we have ever demonstrated the huge Luxman monoblocks being fed by a line conditioner. As up until now, we felt that line conditioners tend to compress the dynamics. Clearly that is not the case with Shunyata Research's revolutionary new Denali line conditioner.
Shunyata Research Denali Line Conditioner — Last year, Dr. Daniel Melby used a Shunyata Research power conditioner to effectively reduce noise when performing Electrophysiology surgery. Differentiating noise from the subtle heart signals can be the difference between a successful and an unsuccessful procedure. Caelin Gabriel (Shunyata's lead designer) subsequently developed a conditioner specifically for scientific and medical applications that delivered results that were below the measured threshold of the test equipment.Shunyata's latest model, the Denali, uses the same technology originally developed for the medical imaging application. The Denali line conditioner reduces noise by over -40dB while actually improving the system's dynamic response. The sonic results provide unrivaled dynamics and a noise floor that allows amplifiers to plumb the depths of LF performance, while simultaneously cleaning up the midrange and allowing the amplifiers to deliver unrivaled high frequency extension.Short video of Dr Melby describing the procedure:


Awards

Audio Oasis Award from David Robinson and Positive Feedback Online

Audio Oasis Award from PFO for On a Higher Note's Pelican Hill Room at T.H.E. Show 2016

Audio Oasis Award from PFO for Prana Fidelity's Room at T.H.E. Show 2016, which featured the Luxman D-06u

Read more at Positive Feedback Online.

"Pelican Hill" Gallery

Eclipse Gallery

Press

'Pelican Hill' room at T.H.E. Show 2016 photo credit: Dennis Davis, The Audio Beat

"Reel-to-reel tape playback was popular in several rooms (six by my informal count), in none with more impact than the room shared by On A Higher Note, Joseph Cali Systems and Shunyata Research…I spent some considerable time listening to various tapes…the sound was simply stunning. While digital music and LPs were exceptional through the Giyas, the best of the reel-to-reel tape selection was truly a step above."

"Philip O'Hanlon of On A Higher Note had yet another great outing…treated listeners to a feast of sources…superior transient response and excellent instrumental texture…A fascinating and impressive demo—and very close to a Best of Show."

Luxman B-1000f monoblock and Vivid GIYA photo credit: Ron Resnick, Mono and Stereo

Ron Resnick on our "elaborate and very carefully structured demonstration":

"The demonstration showed clearly the transparency, naturalness and low-frequency capabilities of the Giya G2s. The Giya speakers never fail to impress. Joseph and Philip have been putting together top high-end audio systems for many years, and each of them is a very accomplished expert in the field."

Mono and Stereo also named our room as one of their Best Sounds of Show. Thank you Ron and Mono and Stereo!

John Atkinson of Stereophile included our room in his two favorite sounding rooms at T.H.E. Show:

"…a new Channel Classics recording of Mahler's Symphony 3, performed by Iván Fisher conducting the Budapest Festival Orchestra and recorded in multichannel DSD256, may well have been the finest recorded orchestral sound I have experienced."

photo credit: Stereophile and Thomas Norton

"Pelican Hill and Joseph Cali Systems set up an elaborate show…the demo was unquestionably dynamic, and certainly the most unique presentation at the show."

Eclipse's Single Point Source "makes a point" at T.H.E. Show 2016

Pelican Hill – On A Higher Note in conjunction with Joseph Cali Systems Design & Shunyata Research

Music Played

Bass solo – Gary Peacock Distinguished Friends Of Cello CD
Drum solo – Billy Elgart Distinguished Friends Of Cello CD (Both pieces recorded by Mark Levinson on two B&K calibration mics)
"A Piece of Me" – Lori Lieberman Ready for the Storm LP
"When The Levee Breaks" – Vanessa Fernandez When The Levee Breaks 1/4″ tape
"My Home is on the Delta" – Muddy Waters Folk Singer 1/2″ Tape
Mahler 3 – Ivan Fischer with the Budapest Festival Orchestra Quad DSD recording, multi-channel

Audio Equipment List

Pelican Hill equipment on Artesania Audio equipment racks

Luxman PD-171AL turntable, $6,500 inc armboard
SME M2-9R tonearm $1,900
SoundSmith "Hyperion" cartridge $8,500
Luxman DU-80 Universal Player $10,000
Otari MTR20 1/2" Reel to Reel (vintage)
SonoruS ATR-10 1/4" Reel to Reel $17,500
Luxman B-1000f monoblocks $30,0000 each (front)
Luxman M-700u stereo amps $10,000 each (rear)
Merging Technology – NADAC Player – Multi channel & stereo music player, running Roon (New product) NADAC $11,500
Vivid Giya G2 loudspeakers $25,000 each
Vivid Giya G3 loudspeakers $20,000 each
Shunyata Research cables, interconnects & power cords, Denali line conditioner $5,000 (new product)
Artesania Exoteryc 3-shelf equipment rack $6,000 each
Artesania Aire amplifier stands, $3,690 each

Video Equipment List

Video Equipment

Sony VW1100 ES 4K $29995
Lumagen 2144 4K Scaler $3995
Kaliedescape Stratos 4K $5995
Roku 4 4k streaming $129
Samsung UBD K8500 4K Bluray $399
MacIntosh Retina MacBook for 4K Video presentation
Cables by Proflex Advanced

Room #410 Equipment List

Eclipse room #410
AXPONA
The Westin O'Hare | Chicago, IL
April 15 – 17, 2016
Our AXPONA 2016 show report is late, but we finished it! We spent most of our time in Kyomi Audio's room (Wells Room), playing both vinyl and high-res digital music. We also played DJ for an hour each afternoon in Music Direct's room (Rosemont 3).
Inside Wells Room (Kyomi Audio)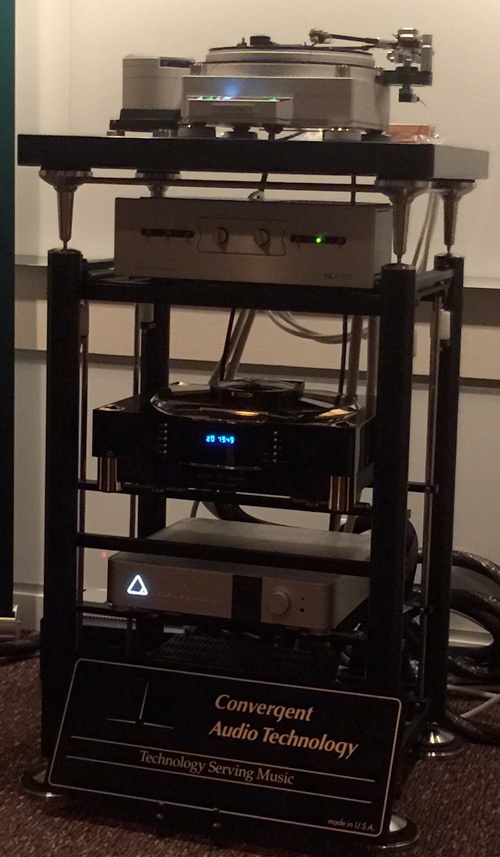 The system in the Wells Room (Kyomi Audio) had a wonderful rich sound, with AJ Van den Hul spinning records most of the time. He is a very lovely sweet man.
The system from the top:
TechDAS Airforce 3 turntable, Graham Elite tonearm, Van den Hul cartridge all sitting on an Artesania KRION turntable platform
CAT preamplifier
MBL CD Player
Marten – Coltrane 3 speakers
George Vatchnadze of Kyomi Audio always makes great sound and this year's AXPONA was no exception.
Awards
Positive Feedback Online – Audio Oasis Award
David Robinson of PFO awarded the Wells Room (Kyomi Audio) an Audio Oasis Award. Thank you, David!
Holy hell! Here was another room that had my pants a-flappin' and my ears rejoicing!…When I went into the room, I was treated to some really serious audio lusciousness…with Artesania Audio supplying their EXOTERYC Rack and KRION Turntable Platform. Also featured were the brilliant Merging Technologies NADAC Quad DSD DAC…Great soundstaging and imaging; excellent harmonics; seamless integration from top to bottom, and right back up. I didn't hear any downside at all here."
Read the full article on the PFO website.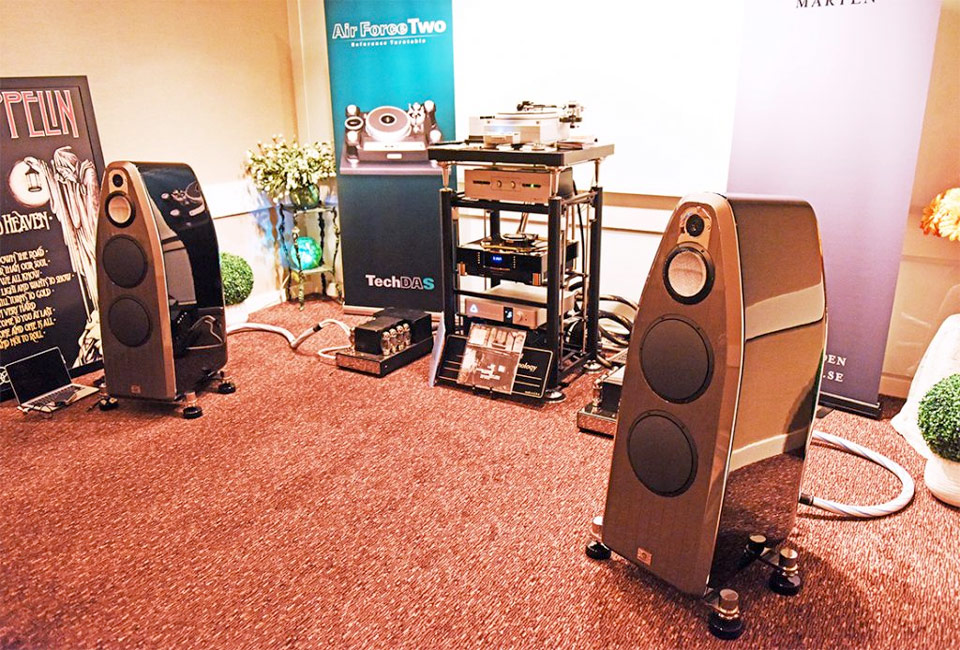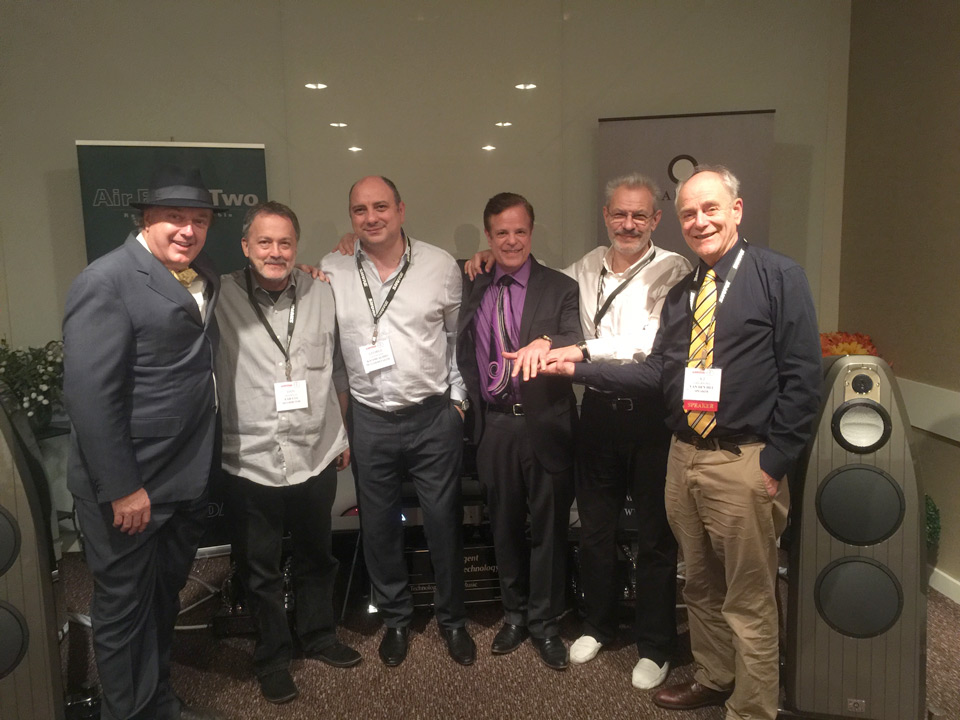 Informal Debut of Luxman MQ-300
Luxman's new MQ-300 was on passive display, but we got a chance to hear it during an after hours listening session. Jerome Andre of Avantgarde hooked the MQ-300 to a pair of Avantgarde Uno loudspeakers—the purity of Luxman's SET design was immediately apparent. It was tonally rich and had a midrange to die for. The fit and finish of this amplifier is absolutely remarkable. Can't wait for Luxman to release the matching 90th Anniversary preamplifier in the Fall—the Luxman CL-500 in the matching piano red lacquer. It should be stunning!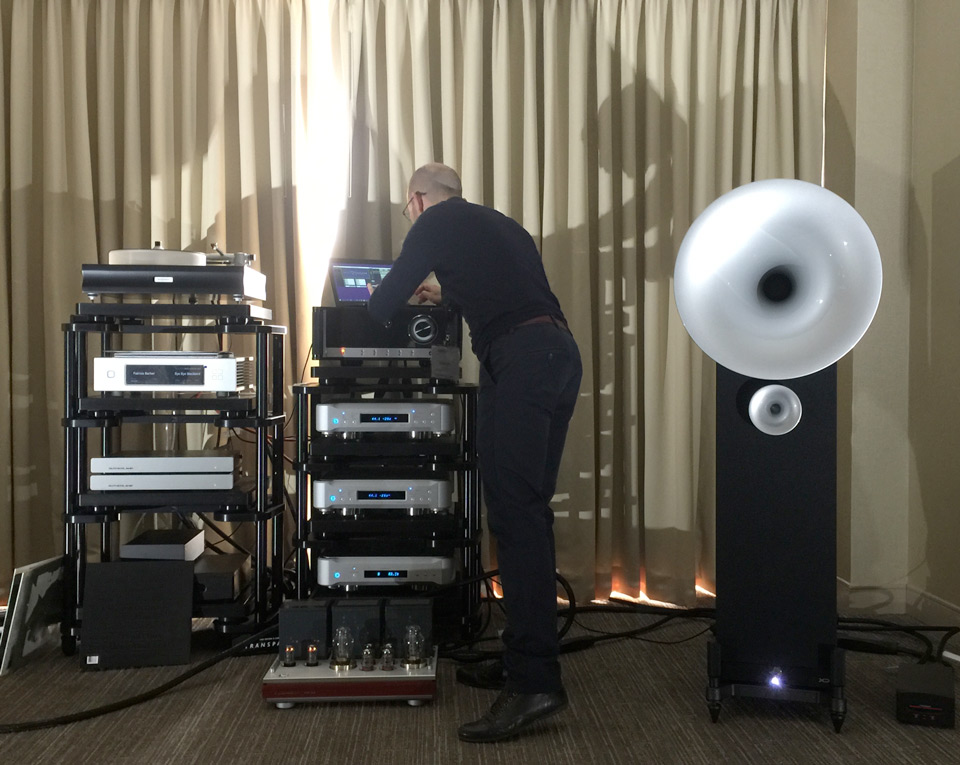 Inside Rosemont 3 (Music Direct)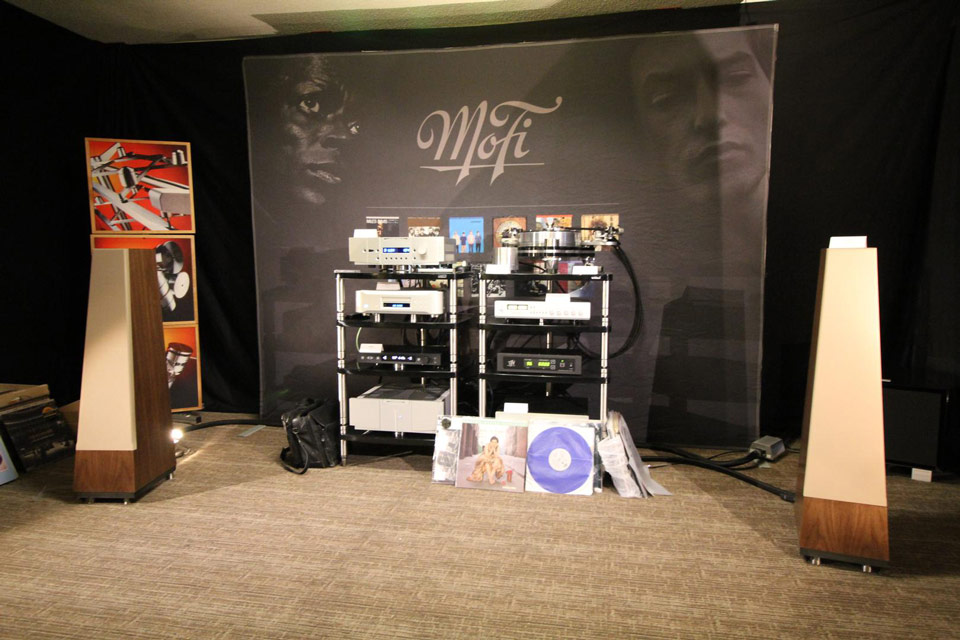 We spent an hour each afternoon during AXPONA in Music Direct's room. We contributed the Luxman EQ-500 to that system. The highlight of this room was playing the Mobile Fidelity test pressing of the Santana LP Abraxas. We own this album on CD and SACD, plus we own every vinyl reissue that's been released over the last 40 years. The Mobile Fidelity test pressing Music Direct's VP Josh Bizar played at AXPONA this year blew them all out of the water. By the end of Side A, the audience was clapping in applause. This very limited edition LP, using Mo-Fi's new one-step plating process, should be available in August or September. You can read more about this album and Mo-Fi's one-step plating process, as well as about other noteworthy music from this year's AXPONA at The Absolute Sound.
Press

"Extremely musical system" at AXPONA with Luxman EQ-500, by Stereophile's Jason Serinus

"Philip O'Hanlon, Luxman's US importer teamed up with Mobile Fidelity, VPI, Shunyata, Balanced Audio technology and REL to showcase a wonderful system…showing off a number of pristine vinyl pressings courtesy of the Mo-Fi team. Philip also provided his latest Demo CD (number 18!) with a wonderfully diverse selection of tunes to show off some systems capabilities."
Read the full show report from The Absolute Sound here.
Equipment List
Passive Display
Active Display
Wells Room on the lower level (Kyomi Audio)
Rosemont 3 (Music Direct)
March 3, 2016 @ 5:00 pm – 9:00 pm at Definitive Audio's Seattle Showroom
It has been almost a decade since we were last invited to Definitive's Music Matters, which has to be the best organized and best attended dealer event in North America. Definitive pulled out all the stops this year to celebrate their 40th Anniversary.
We were fortunate to be invited into their reference room, where Dan D'Agostino presented his brand new "Progression" powerhouse monoblocks, delivering a cool 800wpc into 8ohms, doubling down to 2 ohms (retail is $39,000 a pair). Wilson Audio debuted their new ALEXX loudspeakers. Despite being 2″ shorter than the MAXX 3, they have an adjustable head like the XLF ($109,000 retail). Bruce Brown has ordered a pair already.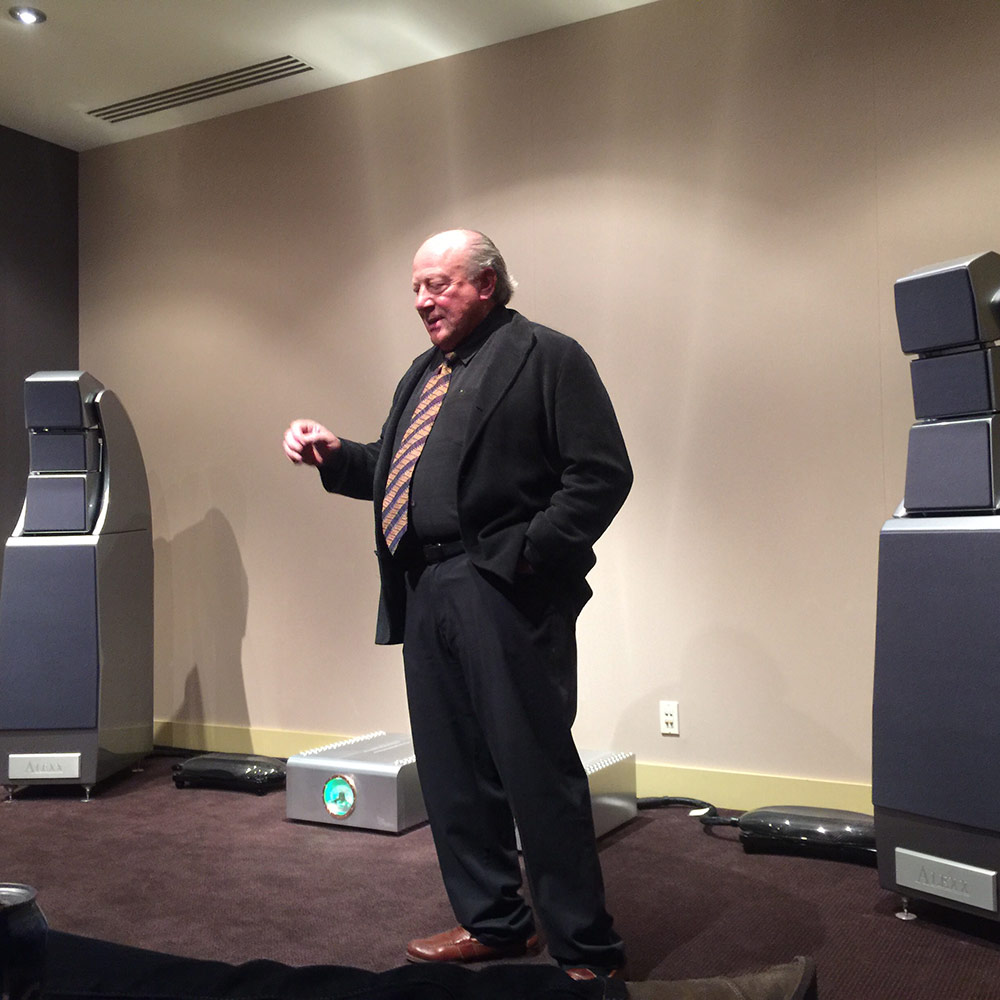 The flagship AMG turntable was in use with a Clearaudio Goldfinger Statement cartridge feeding the new D'Agostino "Momentum" phonostage ($29,000). One of the sonic treats I found was the DECCA reissue from Speakers Corner of Jean Martinon with the Paris Conservatoire Orchestra playing Saint-Saens Danse Macabre. It has a glorious rich tone and a beautifully laid out orchestra playing an enchanting piece of music.
A hundred or so dignitaries were invited for a small cocktail party on Wednesday night and Peter and I shared DJ honors. We played a lot of high-res files from a PC. The system sounded great and was punchy as all get-out. It's amazing actually how the big Wilson's can play so well in such a small room. We played the Momentum amps on Wednesday night and the Progression amps on Thursday.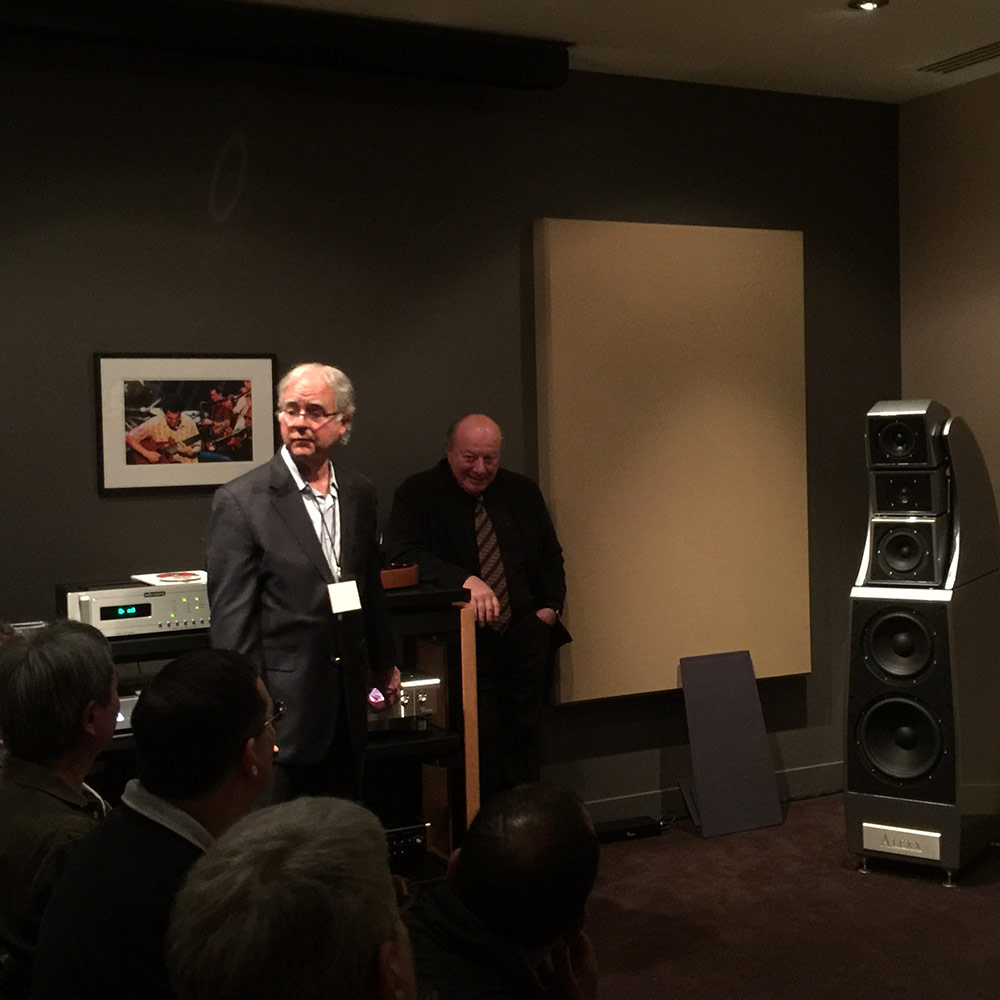 Thursday night was the main event open to the public and over 500 people attended, though only half were able to sample the reference room. There were 25 guests every half hour; demos ran from 5:00 PM until 10:00 PM. As Peter McGrath prefers to conduct his demos using his CD collection, we used an Audio Research CD 6's digital output into the Merging+NADAC and swapped the SPDIF cable so that he could play a few of his own recordings from his solid state recorder. There was actually less than 20 minutes to play music, so Peter abbreviated all the songs to give the listeners as diverse a palette as possible as to the system's performance. Regardless of the format or resolution, the Merging+NADAC delivers tremendous resolution without adding any etch to the high frequencies—quite a difficult balancing act.
Press
The Absolute Sound
"Wilson Audio's sophisticated and entertaining Peter McGrath played some of his own excellent digital recordings through the Merging Technologies NADAC DAC, represented on site by Philip O'Hanlan of On a Higher Note. Merging Technologies is a relative newcomer in the high-end home-audio scene but, apparently, is an established marque in the pro-audio recording and mastering niche. …I hesitate to ascribe any particular sonic attribute to certain components of the system, but from the AMG turntable, Audio Research CD6, and NADAC sources through to the Wilson speakers, this system sounded fantastic."
A member of the audience pointed out to us that they were familiar with Merging Technologies as the Seattle Symphony Orchestra has four of Merging Technologies' Hapi digital audio workstations running their Pyramex software for recording, mixing and mastering their performances. Pretty much most classical venues I have been to recently are using Merging Technologies' gear.
To those lucky few who managed to enjoy the set, I look forward to seeing you again next year. For the rest, at least you can hear what you missed on Tidal. Listen to Peter's Playlist on Tidal.
Playlist (Courtesy of Peter McGrath)
Bach / Jacques Loussier Trio – Gavote in D major
Handel / Rene Flemming – "Sleep why hast thou deserted me" (SACD)
Leonard Cohen – "Never Mind"
Carey Bell – "It's So Easy To Love You"
Christy Moore – "Shine on you Crazy Diamond" (Philip's Demo XVIII)
Keith Richards – "Words of Wonder"
Depeche Mode – "Welcome to my World" (Philip's Demo XVIII)
Cecilie McLorin Salvant – "John Henry"
Stravinsky – Histoire d'Soldat Deutsches Kammerorcherstra (SACD)
Mathias Eisenberg – Num Komm, Der Helden Heland Organ Choral BW659
Dubzanne – "Roxanne"
Puccini – Tosca. Conclusion (PMG original recording)
Rickie Lee Jones – "Showbiz Kids" (45RPM vinyl)
CES 2016 Show Report
January 6, 2016 – January 9, 2016 at the Mirage Hotel Penthouse Suite #E17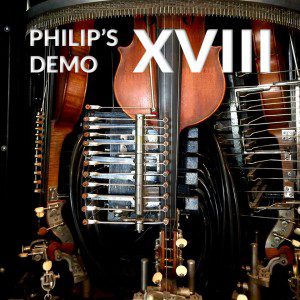 Well, better late than never.  Had a whole backlog of show reports we did not publish due to my traveling schedule, so please bear with us during the next week while we catch up on our publications.
While attendance was light on Wednesday, the first day of CES, the room was beautiful, the equipment was well presented and the sound quality was glorious. We had a great time meeting up with old friends and sharing our most ambitious compilation to date—Philip's Demo XVIII.
I must confess I never paid any attention to dampening plates positioned on top of equipment before. But when Tatsu Sueyoshi from Luxman started to rearrange the position of the Artesania dampening plates on top of his Luxman equipment, we were amazed at how he was able to tune the system by simply drawing away mechanical resonances. The system became much more natural and the sound more focused.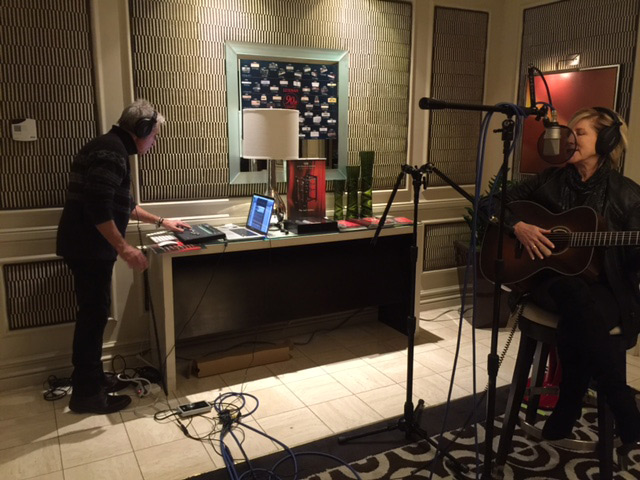 The end of the first day delivered a real treat. Stereophile's Jason Serinus and I were discussing the equipment list for his Show Report and Lori Lieberman was behind us and started rehearsing for Thursday's unplugged performance. Unconsciously, we stopped talking and just listened to Lori's wonderful singing and guitar accompaniment. Her voice was soft, natural, and delivered such emotion—we were mesmerized. Read more about Lori Lieberman's performance here.
Lori Lieberman wasn't the only celebrity guest that popped in to put our system to the test. We were also honored to have Graham Nash stop in to have us play a few tracks off his upcoming album. And the verdict is in. See what Graham Nash thought of our system.
Having listened to the B1 Decade at Music Lovers two Reference Rooms, Berkeley's is approx. 500+ sq. ft. while the SF store's room is approx. 300+ sq. ft. It sounded much more intimate in the smaller room. Knowing the generous room dimensions of the Mirage's penthouse suite, we took a precaution and called Arian Jansen from SonoruS to ask if we could borrow his proximity subwoofer controller for CES. Arian did a marvelous job of dialing in the Eclipse TD-520SW subwoofer into the system. The proximity sub does not extend the LF—rather it augments the bass, so that what you hear at the listening chair is similar to what you would hear if you were sitting just 5' from the speakers.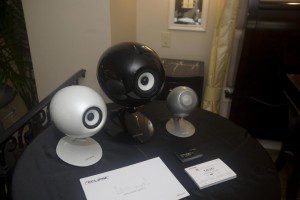 On the last day of CES, David Chesky came in for a listen to his own recordings on the system. He asked if we could move the couch closer and turn off the sub. We moved the listening chair 4' forward and 8' from the speakers. The results were spectacular. But of course, now only one or two people could really enjoy what the speakers were capable of. Near-field listening can be very exciting; the immediacy is intoxicating. It sounds as if the performer is singing right in front of you. Check out the Eclipse TD speakers for a terrific inexpressive near-field experience.
We first showed the Artesania racks at RMAF 2015, but this year at CES, with the help of Cayetano Castellano from Artesania we spent the first day installing racks far and wide across Vegas. These are the quietest racks we have ever used. Really do add a wonderful sense of ease to the sound, as well as lowering the noise floor. Jae Wheeler from Music Lovers mentioned that he never heard the Revel Salon's deliver such deep & tight bass before. Exhibitors using the Artesania racks included: Constellation, Harmon Group (Mark Levinson & Revel) Lumen, Metronome, Synergist Research, Viola & ourselves. Clips I saw looked stunning, high production values and very tastefully executed. No jerky, hand held amateur hour footage— rather super stable, excellently light and first class all the way, just like their products.  We will post that video shortly.
A huge round of thanks have to be extended to Joe Cali for organizing the Lori Lieberman concerts as well as recording them. It really was an ear opening experience.
Thanks to Jon Iverson for organizing the visit from Graham Nash; it was a pleasure meeting him. Very nice down to earth chap, no silly attitudes nor BS. The new album sounded great—it's on my must purchase list.
Awards
Luxman L-550Ax wins SoundStage! Hi-Fi Integrated Amplifier of the Year for 2015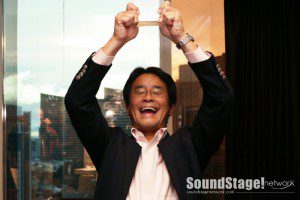 SoundStage! announced the winners of their 2015 Products of the Year Awards. Among them was Luxman's L-550AX integrated amplifier. The awards were given out at CES, as usual. In the picture to the left, you can see a very excited and proud Tatsya Sueyoshi accepting the award for Outstanding Performance in Integrated Amplifier category. It's a fine amplifier—we are very pleased to see it getting the recognition it deserves. Read more at SoundStage! Hi-Fi.
CES Photo Gallery
Press
Stereophile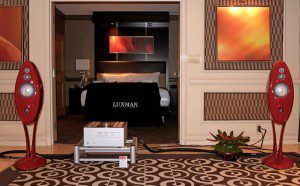 "The sound, of course, was the most impressive. Thanks as well to Luxman's M-900U stereo amp ($20,000), EQ-500 tubed phono stage ($7500), C-900U line stage ($20,000), PD-171AL turntable I custom finish ($7000), D-08U SACD player ($18,000), and due-in-March L-590 AX Mk.II class-A integrated amplifier ($10,000). Aaron Neville's rendition of "Stardust" sounded just wonderful. Rickie Lee Jones with Rob Wasserman sounded equally good. In both cases, mid-range beauty predominated, to satisfying effect."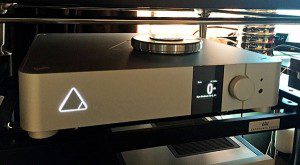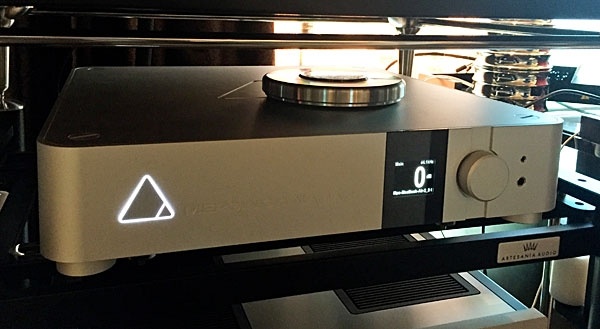 "Merging has been long respected in the pro recording industry…have also been instrumental with DSD recording technology, so not surprising when I saw the new NADAC in Philip O'Hanlon's On a Higher Note suite at the very top of the Mirage hotel, Philip being a big DSD proponent himself…The stereo version goes for $10,500 and the multi-channel version is $11,500. O'Hanlon conducted another of his legendary demos and the sound was clear and focused."
Audiostream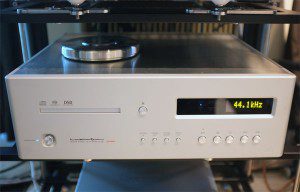 "Jon Iverson has posted his first room report over on Stereophile retelling his CES travels with Graham Nash. Philip O'Hanlon's On A Higher Note was their first stop and I was lucky enough to have been invited along…I'll let Jon handle the heavy story telling, but I did note that after Philip played the title track "This Path Tonight", Graham said, "Fuck, that sounds great!"…In my experience, Philip O'Hanlon always gets great sound at shows and CES 2016 was certainly no exception."
The Absolute Sound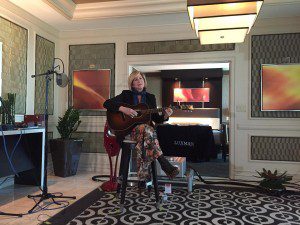 "Another noteworthy room in the Mirage was On a Higher Note, where in addition to a hi-fi system including a host of Luxman electronics and superb Vivid loudspeakers, Philip O'Hanlon presented a mini-concert and recording-and-playback comparison session with solo singer Lori Lieberman who accompanied herself on acoustic guitar… The results between her live performance vs. what we heard on the digital playback vs. what we heard on her classic LP were striking to say the least."
Enjoy the Music
Steven R. Rochlin of enjoythemusic.com interviewed Eclipse's Hideto Watanabe and myself during their live-stream from CES. You can watch the video here.
Rochlin and I also talked about our room in a separate part of Enjoy the Music's live-stream, which is available to watch here. Thank you to Steven Rochlin and enjoythemusic.com for those videos.
Equipment List
ACTIVE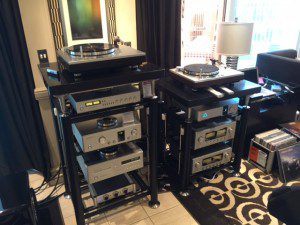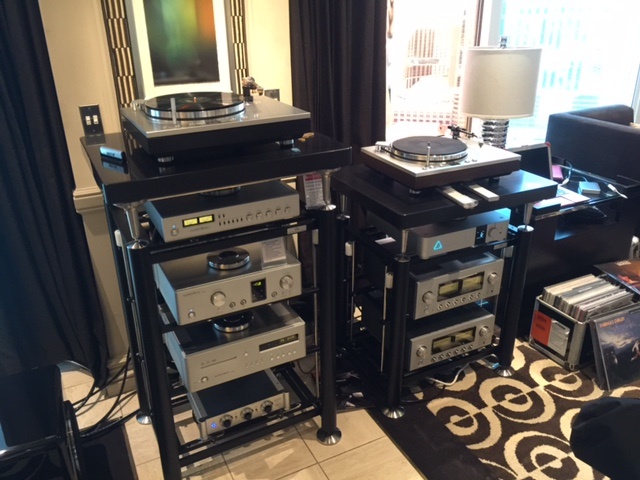 PASSIVE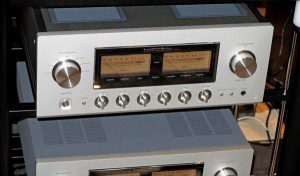 Office System – ACTIVE
Rooms Displaying Artesania Audio Racks
Artesania Audio equipment racks were displayed in many rooms at this year's CES by the following manufacturers. We are honored to have been chosen by Artesania to be the North American distributor of their exquisite equipment racks.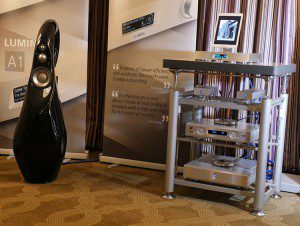 Harman – Hard Rock Hotel in the Muse Ballroom
Synergistic Research
Lumin Music – Venetian Hotel 30-210
Metronome – Venetian Hotel 29-123
Eclipse – Venetian Hotel 29-215
Viola
Constellation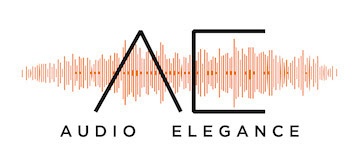 November in Fort Lauderdale
Part of the "Is the Artist in the Room?" Music Seminar Series
November 14th, 2015
Hosted by Audio Elegance in Fort Lauderdale, FL
Situated on the Southeast coast of Florida, Fort Lauderdale is a gem to visit.  The sea front is lined with palm trees and there is a beautiful sandy beach that looked deserted when I was there but I am sure is normally packed when the weather cooperates.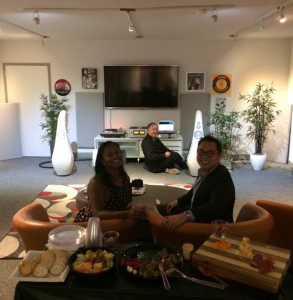 Ansermet's De Falla "Three Cornered Hat" played on the Giya G3 driven by the Luxman L-590AX was completely convincing with a huge, wide and deep soundstage. The performers were so accurately positioned across so that when you closed your eyes, you felt like you were transported to the first performance at the Alhambra Theater in London, 21 July 1919 (though we were actually playing the first stereo recording, from 1961 by DECCA).
A really fun ballet with the local magistrate trying to seduce the miller's wife, yielding real comic results. The Merging Technologies NADAC revealed so much detail that promises to surprise you as it may very well be the first time you hear them in this music. With soundstage so wide and deep, supporting what has to be the finest classical recording that I know of so far. See our review of Ansermet's De Falla "Three Cornered Hat". If you have heard something better, please share.
Musical Highlights
Ansermet – The Three Cornered Hat
Gene Ammons – Boss Tenor
Doug MacLeod – There's a Time
London Grammar – If You Wait
Gene Ammons  – "My Romance" from Boss Tenor delivered a huge saxophone with lots of room ambience leaving our listeners spellbound.
Doug McLeod's stellar There's A Time on LP was greeted with applause at the end of side 1. See our review of There's a Time.
Jason Llyod's favorite was London Grammar's If You Wait. While he really likes X, London Grammar offers more diversity between songs as well as a more talented singer. It's also really well recorded and the vinyl is quiet & dynamic. As a matter of fact, I have given this album as a gift countless times this year.
The Luxman presentation was well received by Jason's clientele who up until now have only heard the Vivid speakers driven by Devialet electronics. Many listeners commented that the midrange was more fleshed out in comparison and more palpable. Certainly the Luxman / Vivid combo delivers goosebumps.
Equipment List
Music Seminar at John Rein's AV Therapy for Three's a Party, (aka Oktoberfest 2015) Store Event
October 21st, 2015
Audio Video Therapy – Nashua, NH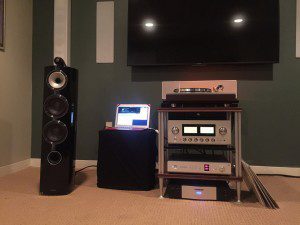 One of the problems of flying red-eyes across the United States is that you arrive really early in the morning on the East Coast with little or no sleep. So I was not surprised when I arrived at AV Therapy in New Hampshire to find that the LPs that I dragged across the United States were unfortunately still in my hotel room. Fortunately, I was able to borrow some records from Scott Shaffer and had a great time playing from his record collection.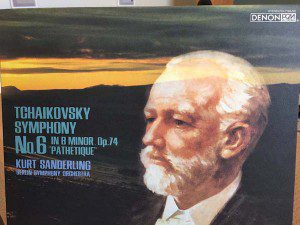 The system was comprised of a Luxman L-550aX integrated amp, a Luxman DA-06 DAC and a Luxman PD-171A turntable driving the new B&W 803 Diamond mk 3.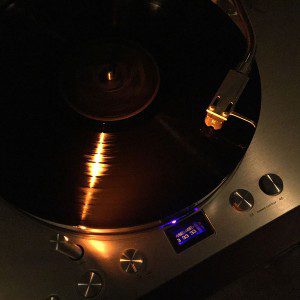 We had a lot of fun, especially when Scott pulled out his super rare Denon classical LPs in mint condition.
This beautiful turntable spinning gorgeous music in AV Therapy's pristine listening room puts me in the mood to just keep playing LPs. Scott took a beautiful picture showing the lighting and ambiance we had on that beautiful turntable while spinning his mint condition classical LP. What a fun afternoon! Thanks to John Rein and AV Therapy for hosting!
Music playlist from LPs
– Cat Stevens' "Morning has Broken" from Teaser and Fire Cat – This delivered a really high emotional charge. Everyone connects with this timeless classic. Truly, truly beautiful.
– Alison Krauss track 1 / side 1 from Paper Airplane – I already have this CD and high resolution download. The LP completely crushes both into a little paper ball.
– Supertramp's "Bloody Well Right" from Crime of the Century was a hoot and really dug out the best of what this system was able to offer.
– Horace Silver – Title Track from Songs for my Father
– Steely Dan fans will recognize the underlying melody from Pretzel Logic's "Rikki Don't Lose That Number". By the way, the whole album is superb—one of the Blue Note jazz classics.
– Yamamoto Tsuyoshi Trio – Midnight Sugar. Track 2 / S 1. Some fabulous jazz from Japan that's exceptionally well recorded—must have for the audiophile.
Equipment List
– Luxman L-550AX integrated amplifier
– Luxman PD-171 turntable
– Luxman DA-06 DSD DAC
Rocky Mountain International Audio Festival 2015
Denver, CO
October 2-4, 2015
This year, our main room (the Long's Peak ballroom on the mezzanine level of the Denver Marriott Tech Center, as usual) featured a Luxman PD-171AL turntable sitting on an Artesania Audio "KRION" turntable base. The KRION base is made from a stone composite, sitting on an adjustable stainless steel frame. It removes any noise or mechanical vibration from the delicate low out cartridge's signal.
We paired the PD-171AL turntable with a prototype Schroeder "Alto" tonearm, making beautiful music. It has an adjustable azimuth and SRA, a unique bearing design, ebony arm wand with first class fit and finish. Too bad we had to return the prototype and wait for the production model. Can't wait to get our hands on our own!
We also had a Mola-Mola Makua with optional phono stage and prototype DAC delivering a full rich sound and huge 3-dimensional soundstage. And I even got a recording of Mola-Mola designer Bruno Putzeys explaining his DAC in a rather technical, but fascinating spiel he gave. You can read the transcription at AudioStream, thanks to Michael Lavorgna's transcription.
Finally, we had the Merging NADAC running Emotion software, playing multi-channel music off of a PC. Sounded breathtaking through the Vivid Audio GIYA G3 loudspeakers with V1.5's in the rear. Quad DSD sounds remarkably similar to the best analogue tape!
Each day at the show, we received a different multi-channel recording from Lori Lieberman's upcoming album, Ready for the Storm from our Los Angeles dealer, Joe Cali to showcase.  The recordings were sent over as six individual WAV files. It was indeed very handy to have Dominque Brulhart from Merging Technologies who had Pyramix software and was able to mix the six individual channels into a playable multi-channel file.  Not having listened to multi-channel for about ten years, it was a real treat to trawl through my multi-channel music collection and rediscover forgotten gems.
One person in the audience commented that "YES" multi-channel mix from Fragile did not sound the same as the stereo mix, to which we both agreed that in this case, different was actually better.
This is the first time that we ever brought a statement rack with us to Denver and this was the best sound we ever produced in Denver. I would attribute this in part to the Artesania Exoteryc rack that was doing the heavy lifting (pun intended). Also, the Shunyata Research's cables and power conditioning clearly made a noticeable difference to the system. The sound was relaxed, quiet, and effortlessly musical. Depending on the music played, we were able to throw a huge, wide and 3-dimensional soundstage. The system was utterly non-fatiguing.
RMAF 2015 Gallery
Awards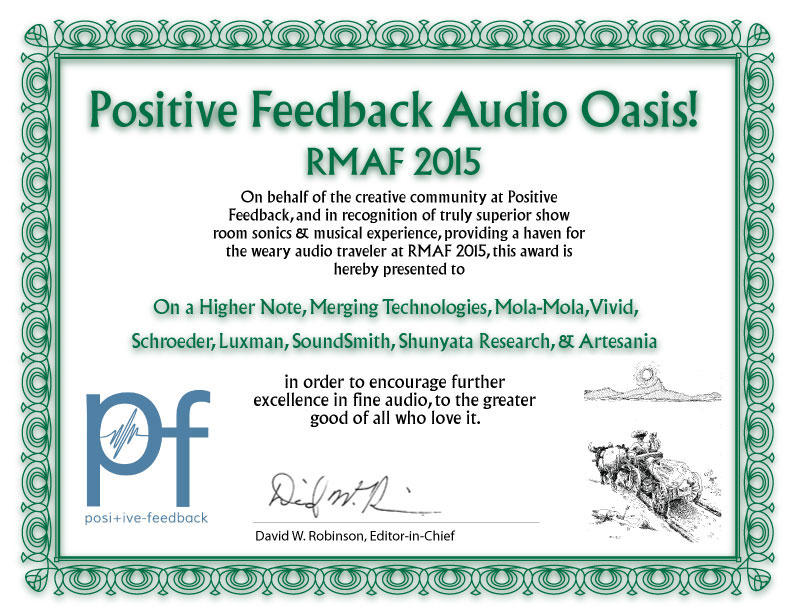 Musical Highlights
Musical highlights on the Multi-channel Merging NADAC running 4.0 with a phantom center channel: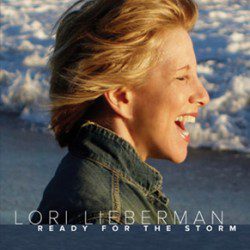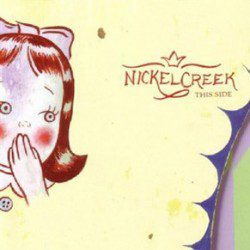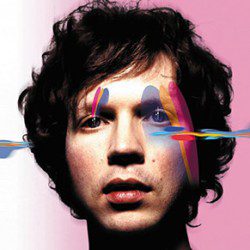 Musical highlights on the Mola Mola internal DAC (name TBA):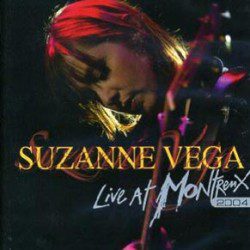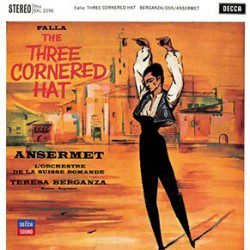 Musical Highlights on the Luxman turntable: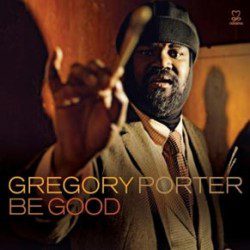 Press
Jason Serinus gave us a very nice write-up in Stereophile: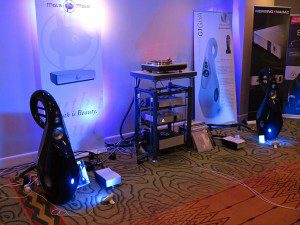 "The presentations were supremely musical, with Vega's guitar strings having the absolutely right leading edge, and the body of the tone equally right on in timbre. Even sitting way off center, as I was, the size of the soundstage was quite impressive…In fact, the presentation was so superb in every respect that I felt as though I was hearing the track for the first time. (Certainly I had never heard the ensemble's voices so perfectly delineated, yet not in the least bit etched.) Need I add that O'Hanlon is also a perfect master of volume, choosing just right level for each cut? Bravo and YUMMY!!"
Chris Connacker over at Computer Audiophile had nice words to say:
"One room at RMAF 2015 was truly an experience to remember. Philip O'Hanlon of On A Higher Note, the distributor for many fine products including Mola-Mola, Merging Technologies, and Vivid Audio, demonstrated both stereo and multi-channel playback at a very high level…The entire listening experience really threw me for a loop and is one I won't soon forget…Again, great sound quality and an experience to remember."
Thanks to Greg Weaver and Neil Gader from the Absolute Sound: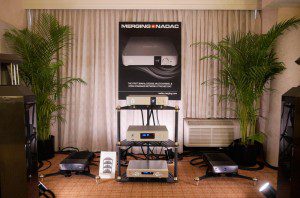 "Philip O'Hanlon's On A Higher Note hosted the Longs Peak Room on the Mezzanine level. Listening to 2-channel or 5-channel surround (by employing a phantom center mode) in this room was a very musical experience…Simply one of the most dimensional, spacious, and highly coherent presentations I've had the pleasure of experiencing."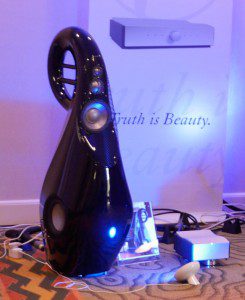 "Finally, as the show was coming to a close, the exhibit that hit the right note for me was in the On A Higher Note suite. The setup featured the Mola Mola Makua preamp ($13,450) Mola Mola and Kaluga power amp ($18,000). Driving the Vivid Giya G3 loudspeakers (with Luxman, Soundsmith LP front end), I felt as if I were hearing these wildly eccentric-looking speakers for the first time. The sound was detailed and relaxed, with superb soundstaging. Vivid indeed."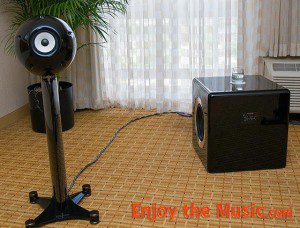 "The Desktop system TD-M1 at $1,300 a pair was one of the most versatile, and aesthetically pleasing, desktop speakers I have seen at the show. They feature an integrated DAC, amplifier, and Wi-Fi integration for wireless streaming. Even in nearfield the TD-M1 allows recording to have space that doesn't just float around the middle of the screen immediately in front of you, as it dances around a wide open soundstage."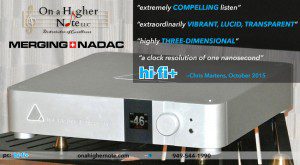 "Merging's approach may seem unorthodox at first, but no one can argue with the sonic results. Based on a brief but extremely compelling listen, I was struck by the NADAC's extraordinarily vibrant, lucid, transparent, and highly three-dimensional presentation."
Equipment Lists:
Longs Peak Room on the Mezzanine level: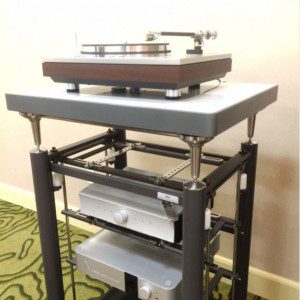 Constellation Audio # Connifer 1
Eclipse Room #1002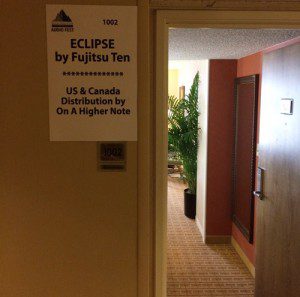 Grace Design #9010
Prana Fidelity #538
Download RMAF 2015 Equipment List PDF
Hi-Fi Harmony 2015 was a great success. John Rein, owner of Audio Video Therapy & the host of the show, was very charismatic and effusive and a pleasure to be with. Attendance was roughly around 100 people. Not only was it very well attended, the attendees felt the novelty of being able to listen to Luxman in New Hampshire! Little did I know there are lots of Luxman enthusiasts in N.H.greeting me with their war stories about their vintage Luxman gear, how long they last and how satisfied they are with it.
Hi-Fi Harmony opened 10 active rooms during the show and they had manufacturers and representatives demonstrating products in each room. I felt honored that Michael Kelly from Aerial acoustics was in the room adjacent to me.
Our A/B test: We played Ray Brown's "Live At The Loa" and we compared the DSD file taken from SACD against another transcription, this time of the Analog Master Tape played into a Horus with its own analog to digital DSD converter. We found that the Horus, which was the more recent technology, sounded dramatically better. It was more open sounding, had better defined bass, with a more three dimensional soundstage and it was the difference basically of about 6 or 7 years of technology in analog to digital converters. Clearly the Horus is extremely good.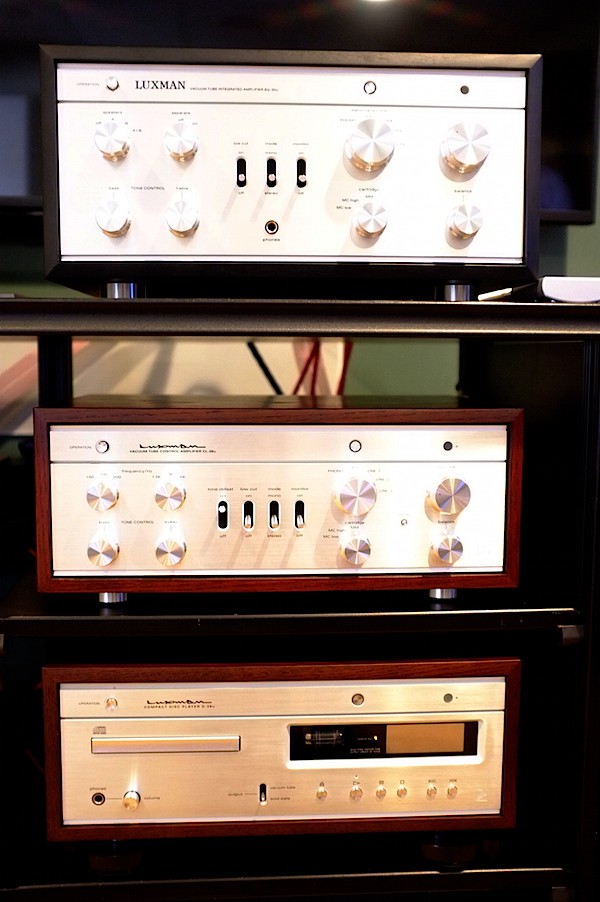 Equipment List:
Luxman L-550Ax Pure A integrated amplifier
Luxman DA-06 DAC DSD USB
Luxman SQ-30u integrated tube amplifier
Luxman D-38u vacuum tube CD player
Luxman CL-38u preamplifier
Totem Element Metals model one for the tube stack
Nordost cables and interconnects
(Totem elements speakers driven by the 550Ax and the DA-06, used 90% of the time
Partial playlist: We played Philip's Demo XVII CD and everyone loved the Bruce Springsteen track "Mansion on the Hill", from Live in London along with Tower of Power.
Louis Armstrong's "St. James Infermary" 12″ 45 RPM single
"Summertime" from Porgy and Bess, Ella Fitzgerald and Louis Armstrong from the Speakers Corner Reissue LP
Sergei Prokofiev's Lieutenant Kijé
The Totem Element speakers had no midrange crossover therefore had an immediacy and directness that was a pleasure to listen to. The bass was decent, not in the same league as the GIYAs but also at a fraction of the price. Another interesting feature of the Totem speakers was that they could be placed very close to the back wall.

AXPONA
The Westin O'Hare | Chicago, IL
April 24 -26, 2015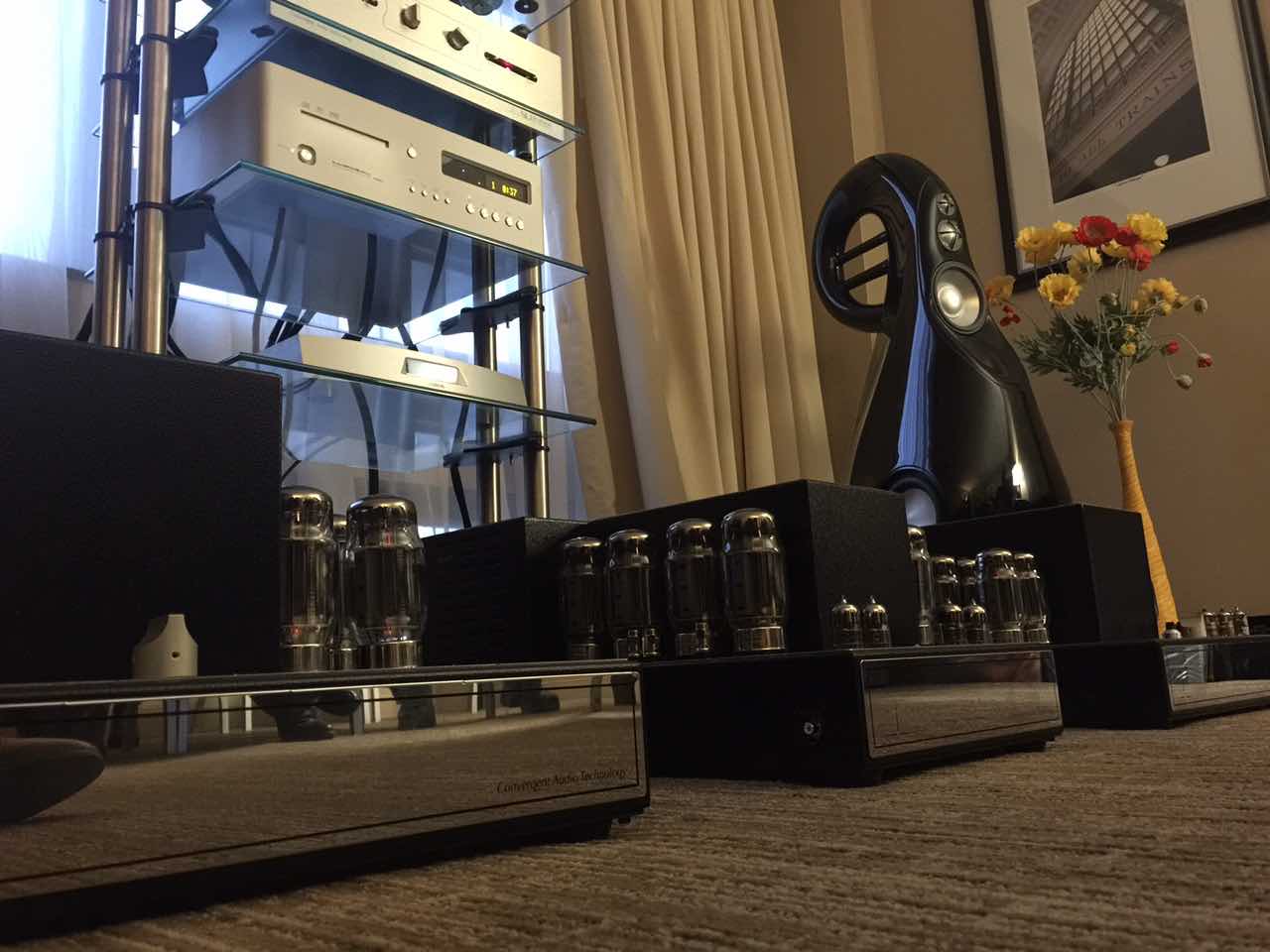 A glimpse into Kyomi Audio's room: A customer wanted to hear the big CAT Statement monoblocks compared to the little JL5 stereo amp we had played all day. The JL5 is a stereo amp with triode design using 4 x KT120 per channel, it puts out 25W Class A or 100W Class AB and retails for $13k. The Statements are monoblocks using 16 x KT120 per chassis, with a 200W triode design, Class A and retails for $100k a pair.
The big guys did not disappoint as the micro dynamics were put in the spotlight. The tonal color was more dramatic and the sound-stage became huge and spacious; it sucked the listeners in to the musical event.
It was a packed room of music lovers who were willing to delay dinner to indulge in a religious experience. Feet tapping and lots of comments exchanged over the music played at realistic club levels. It had all the vibes of a happening.
Refreshments (wine, beer & Georgian brandy to be specific) finished but the roomful of audience stuck around for more. What does this tell you about this experience with an exceptional stereo?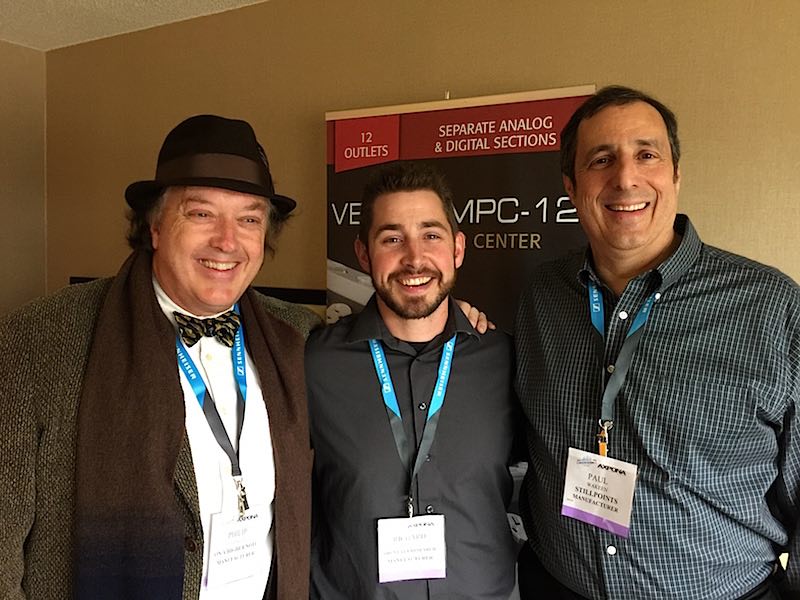 An educational experience for me at Shunyata Research & Stillpoint's room: I popped in on Saturday afternoon to catch a demo conducted by Richard Rogers (Shunyata) and Paul Wakeen (Stillpoints). We had lent them a Luxman D-05 CD/SACD Player ($5k) and a Luxman L-507uX integrated amplifier ($7k). The system also included Cobra series cabling and Venom power cords by Shunyata with a rack & room treatment from Stillpoints. The acoustic panels were approximately $650 each. The speakers were a piano black pair of Vivid Audio's V1.5s; their entry level, two way design, retailing for $8k. It took me a few visits as the room seemed to be well attended, before I could sit in a decent seat & enjoy their demo.
While I was there they played a John Mayer cut and ran the Luxman gear with stock power cords plugged into the wall. Then replaced the cords with Shunyata power cords and played the same cut again. They then lifted the CD player up & placed three large Stillpoints Ultra 6 isolators underneath & played the John Mayer track again. Finally, they placed six acoustic panels around the speakers and against the glass windows behind the speakers. To show how far the sound quality had progressed they removed all of the additions & put the system back to stock and played John Mayer for a final time. Whew!
Sonically, I heard the system get quieter, and progressively more resolute with fine micro details becoming more apparent. Tonal color improved and the system developed a nice tonal density, noticeable on Mayer's guitar as well as on the vocal. Soundstage became better defined and grew outside the speakers. Would have been nice to hear a few complete songs to get a better feel for how the system behaved. Nonetheless, I appreciate that Shunyata & Stillpoints were there on a mission to demonstrate the efficacy of their products. Hats off; it was very educational.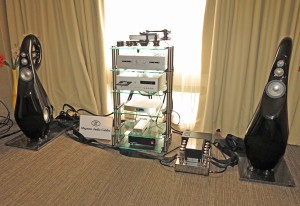 Stereophile's Jason Serinus shares his experiences at AXPONA 2015 "What better way to start one's day than on a new floor, Floor 3, in a room whose sound invites superlatives? Then again, what else would one expect when the set-up team includes a concert pianist, George Vatchnadze of Chicago's Kyomi Audio, and a music lover with impeccable taste, Philip O'Hanlon of On a Higher Note…" <Full article>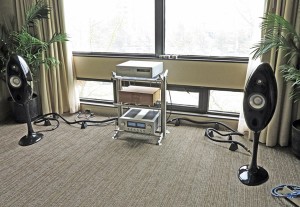 "…Using Vivid loudspeakers, Richard Rogers of Shunyata and Bruce Jacobs of Stillpoints conducted a very convincing demo in which they began with stock power cables and no room treatment. First, they switched from stock power cables to Shunyata's Venom digital power cable ($395) and Venom High Current power cable ($295). Next, they added Stillpoints Ultra 6 equipment supports under equipment where there had been no supports before…" Read full article.
Philip's Musings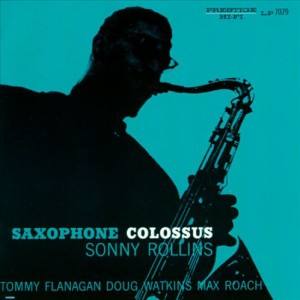 Sonny Rollins – Saxophone Colossus at Axpona 2015
Revisiting Sonny Rollins' "St. Thomas" from Saxophone Colossus on SACD at AXPONA was one of my personal highlights of the show. I first heard this when Paul Stubblebine from the Tape Project lent us (for CES one year) a Studer A80 with Dan Schmalle's wonderful … Read more.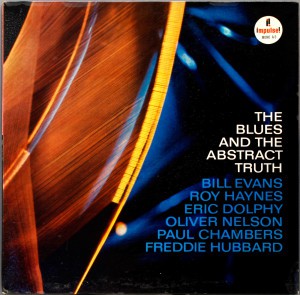 Oliver Nelson – The Blues And The Abstract Truth at AXPONA 2015
I bought the DSD download of the Blues And The Abstract Truth album a couple of years ago and have been mesmerized by the all time classic, "Stolen Moments". Recorded over fifty years ago in 1961, this piece is a timeless beauty. Its indisputable … Read more.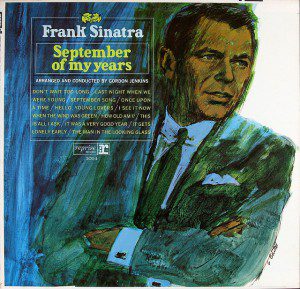 Frank Sinatra – September of my Years, best album played at AXPONA 2015
Another music highlight at AXPONA 2015 from Kyomi Audio is Frank Sinatra's September of my Years on vinyl. It was a great album that we kept playing repeatedly at AXPONA and no one got tired of it. It was 1965… Read More
Equipment List
Shunyata Research room #318:
Luxman L-507uX integrated amplifier
Luxman D-05 Stereo SACD / CD Music Player
Vivid Audio V1.5 loudspeakers
Kyomi room #315:
Luxman D-08u Stereo SACD / CD Music Player
Vivid Audio GIYA G3 loudspeakers

Once again, congrats to Coup de Foudre Montreal for putting on a great show at the SSI 2015. Thanks again for the hospitality and warm welcome. Proud to announce that Doug Schneider of SoundStage! Network awarded our room with the "Best of Salon Son & Image 2015" Award!
Behind the Scenes: While we had a great size room at the Bonaventure Hotel, unfortunately it developed a 50Hz room node. So we were unable to play the Gotan Project LP or high-res file, as it sounded thick & congested. It was the first time that the Vivid Oval K1 (Stereophile's Loudspeaker of the Year 2012) were demonstrated in Canada and they were surprisingly punchy & loud compared to the Giya G3. Clearly the Oval K1 is excellent value for the audiophile with a larger than normal listening space.
The Tunes: London Grammar's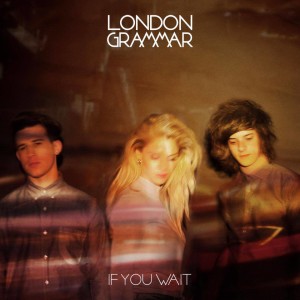 "Hey Now" sounded stunning and locked into the room beautifully.
I had a fun time with Jason Thorpe & Doug Schneider from SoundStage! Network, playing Tower of Power's "Diggin' on James Brown" as well as Michael Jackson's "Billie Jean" – we whacked up the volume to show how Vivid Audio's speakers can play loud without breaking up as the tweeters are 98dB efficient even though they were padded down to 89dB to match the woofers. It isn't surprising that they play so clean at louder than normal listening levels.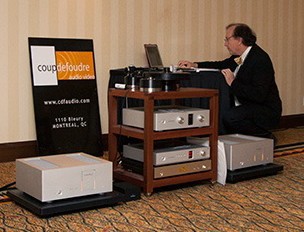 Luxman M-600A stereo amp vs. Bridge mode shootout: Before we broke the system down, we compared the experience between using Luxman M-600A as a stereo amp to using two M-600As run as bridged tied load (BTL) mono blocks. Besides the extra power, the mono blocks deliver a noticeably more palpable sonic performance to its stereo sibling. The improved micro dynamics add a delightful realism to the musical performance.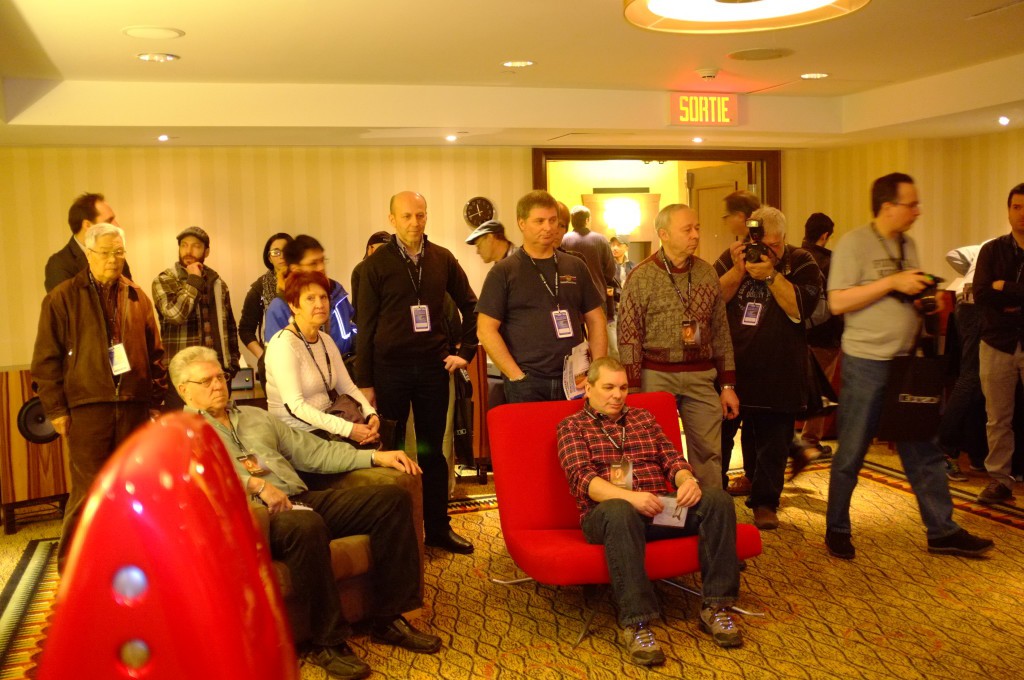 Turntable Tip: Danny LaBreque (turntable guru at Coup de Foudre) swears by the outboard phono stage. Luxman have a wonderful moving coil step-up transformer (MT-88) from the 88 series of Art Deco tube gear. Unfortunately I didn't have time to compare & contrast using an outboard moving coil step up transformer instead of the normal gain stage in the Luxman E-1 phono stage. That's an experiment I would like to do and post the results of the comparison at a later date.
What the Press said: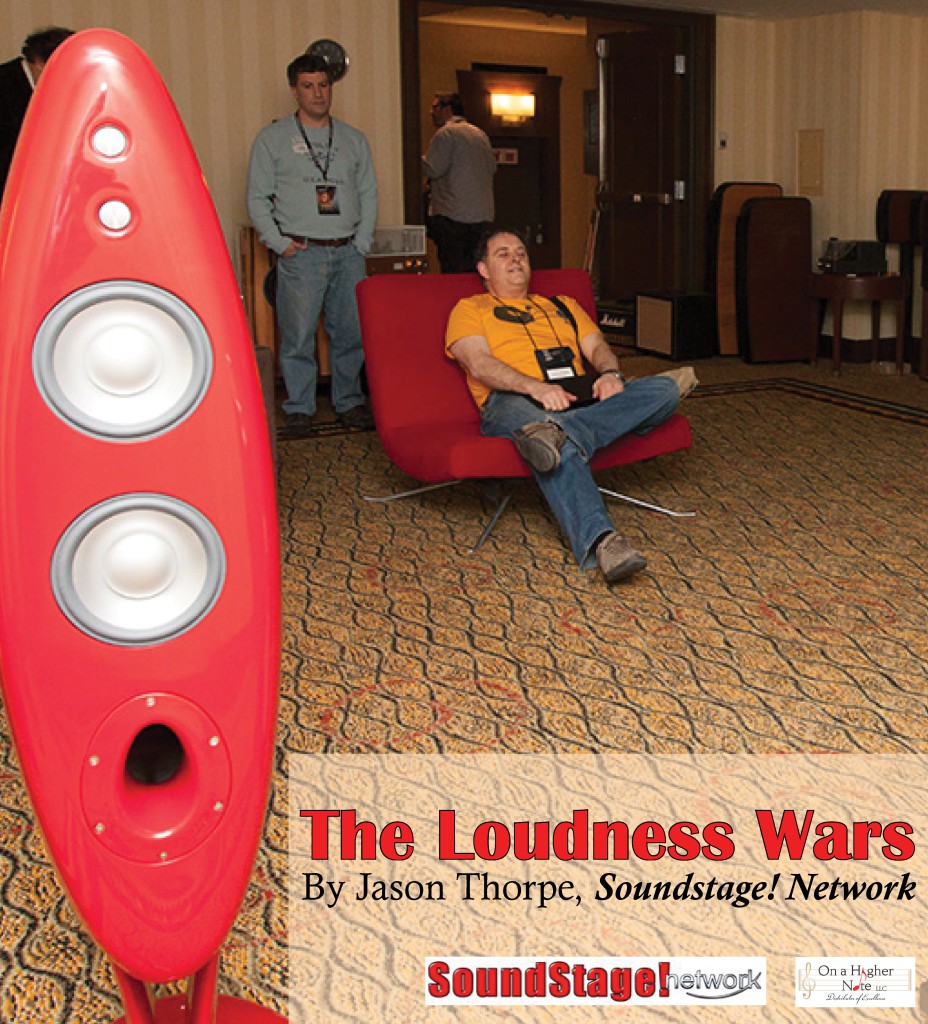 "…Philip 'Always Ready with the Perfect Music' O'Hanlon cued up MJ's 'Billie Jean' and turned up the volume a couple of notches. He looked over at me and raised his eyebrows to query whether the level was right. I gestured for him to turn it up more, and he complied. We repeated this procedure several times until it was really freakin' loud. Louder, in fact than I've ever hear at an audio show. Curiously, the room began to fill up. Doug was right. The Vivids showed no sign of strain, retaining their composure and refraining from any sort of treble hardening…it sounded great and was an absolute hill of fun to listen to." – Jason Thorpe, SoundStage! Network <full article>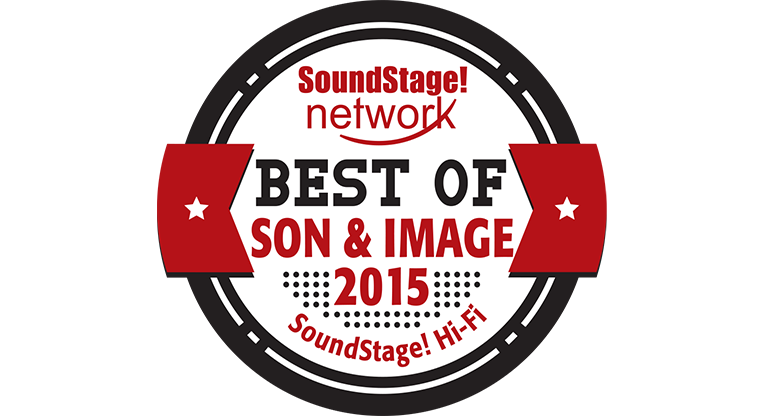 Best of Salon Son & Image 2015 Award
"One system that was more expensive than Bryston's really impressed me. Montreal retailer Coup de Foudre, in conjunction with On a Higher Note, … assembled the best system and the most noteworthy demo I heard at SSI 2015."
"…the Oval K1s sounded natural, neutral, crystal clear, and utterly composed — as if they were coasting. Jason was floored. He's used to audiophile speakers completely falling apart when they're asked to play like that (at rock-concert levels). At the back of the room, Graeme Humfrey, co-owner of Coup de Foudre, said ' I can feel the bass in my chest," I could feel it in my chest, ears, and pretty much everywhere else."
"This demo reminded me of precisely why I love Vivid Audio speakers, and why I consider them to be among the best speakers you can buy today, if not the best: they sound incredibly neutral and natural, exceptionally detailed, and are capable of explosive dynamics and extreme SPLs that few speakers at any price can match."
"They're the only speakers I've heard that make music sound truly alive." – Doug Schneider, SoundStage! Network, Read full article.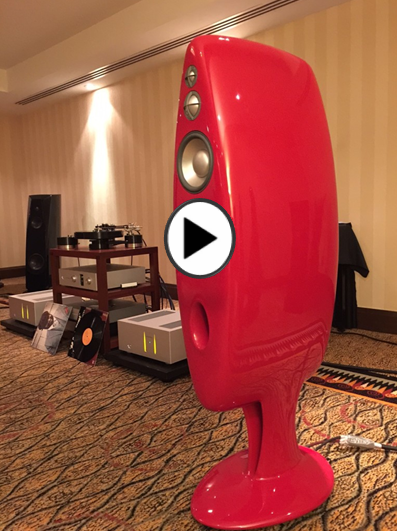 Tower of Power rocks on. See the short video clip captured at SSI.
"Montreal dealer Coup de Foudre's exhibit featured the 2012 Stereophile Loudspeaker of the Year Vivid Audio Oval K1 (USD $26,000/pair)… I've never heard these speakers sound anything less than great, and their sound at SSI 2015 did nothing to change my previous impression. I really like the red demo pair…"
– Robert Deutsch, Stereophile <full article>
Equipment List:
Luxman C-600f control amp
Luxman M-600A stereo amp
Luxman PD-171 turntable (passive)
Luxman DA-06 DAC DSD USB
Vivid Oval K1 loudspeakers
Montreal's Salon Son & Image 2015 Playlist
Vinyl
Artist
Track
Album
London Grammar
Hey Now
If You Wait
Cannonball Adderley
Autumn Leaves
Something Else
Frank Sinatra
Blues In the Night
Sings For Only The Lonely (Mobile Fidelity)
Count Basie & Tony Bennett
Jeepers Creepers
Count Basie & Tony Bennett
George Michael
Faith & Father Figure
Faith
John Coltrane
Lush Life
Lush Life
Digital
Rachel Podger
Chacone
Pearla Baroca (Channel Classics) – DSD
Florestan Trio
Debussy Piano Trio
French Piano Trios (Hyperion) – DSD
Helene Grimaud
Beethoven Corale Fantasy – finale
Credo – DSD
Akiko Suwanai
Saint-Saens Violin Concerto
DSD
Tower of Power
Diggin On James Brown
Philip's Demo XVII – 16/44.1
Bruce Springsteen
Mansion On The Hill
Philip's Demo XVII – 16/44.1
Emmylou Harris & Willie Nelson
One Paper Kid
Philip's Demo XVII – 16/44.1
Nina Simone
I Loves You Porgy
Philip's Demo XVII – 16/44.1
Duke Ellington
Malletoba Spank
Jazz Party in Stereo – DSD