Category Archives:
Awards
Showing 9 posts of 9 posts found.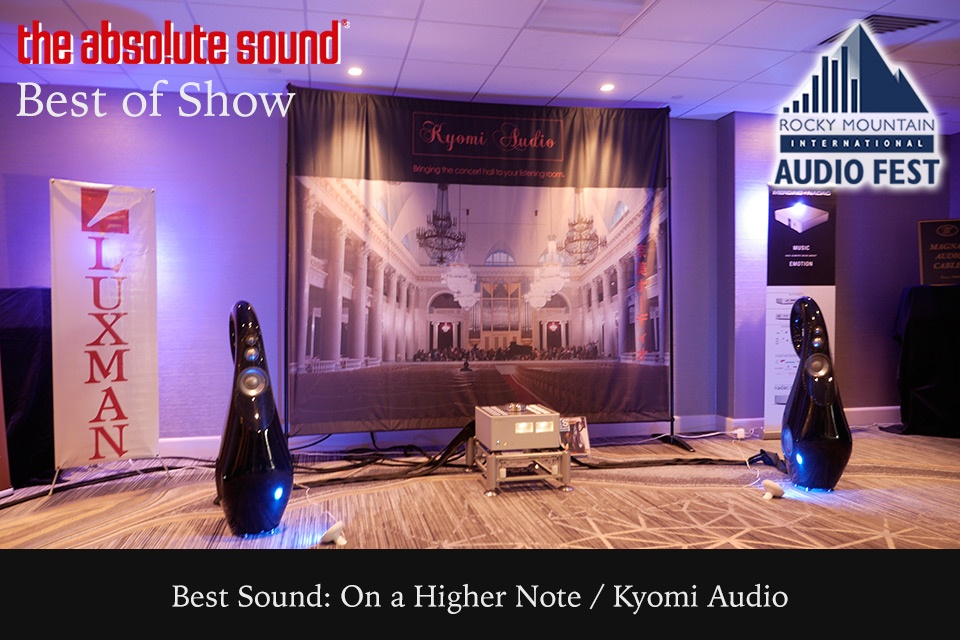 Learn more in the Absolute Sound's full RMAF 2016 Show Report.
Our 'Pelican Hill' Room at T.H.E. Show 2016 was awarded an Audio Oasis Award by Positive Feedback Online. Congratulations and thanks to Artesania Audio, Luxman, Merging Technologies, Vivid Audio, Joseph Cali and Shunyata Research!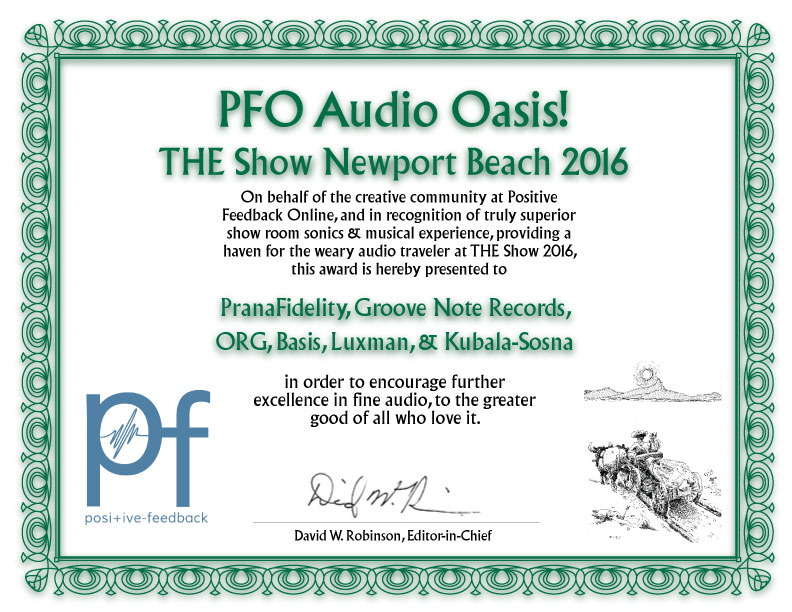 PFO also awarded an Audio Oasis Award to the Prana Fidelity Room, to which we loaned a Luxman D-06u. Congratulations to Prana Fidelity, Luxman, Groove Note Records, ORG, Basis and Kubala-Sosna.
And thank you to David Robinson and Positive Feedback Online for recognizing our room and our brands as exceptional. And finally, thanks to everyone else involved for your time and contributions!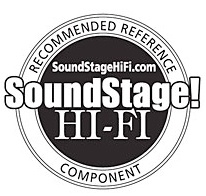 SoundStage! Hi-Fi has declared Vivid's limited edition B1 Decade a Recommended Reference Component.
"With the B1Ds properly set up — and when the recording allowed — Doug found the Vivids capable of throwing enormous soundstages with pinpoint accuracy of imaging that competed with the best speakers he's reviewed…"
Schneider wrote an excellent review of Vivid Audio's limited edition B1 Decade back in March. He admits to having overlooked Vivid Audio's line of speakers for a number of years, before he stopped to give the original Vivid B1 loudspeakers a listen in 2010. They ended up being his favorite speaker for under $20,000.
For Vivid Audio's 10th anniversary, they decided to completely remodel the original B1. Doug wrote in his review that the limited edition B1 Decade "represents the pinnacle of what Dickie and Guttentag feel can be achieved in the Oval series."
Read Doug Schneider's full SoundStage! Hi-Fi review of the Vivid B1 Decade here.
Or learn more about what makes the Vivid B1 Decade a Recommended Reference Component.
Our Long's Peak Room at RMAF 2015 was awarded an Audio Oasis Award by Positive Feedback Online. Congratulations and thanks to Artesania Audio, Luxman, Merging Technologies, Mola-Mola, Schroeder, Soundsmith, Vivid Audio and Shunyata Research! And thank you to Positive Feedback Online for recognizing our room and our brands as exceptional. And finally, thanks to everyone else involved for your time and contributions!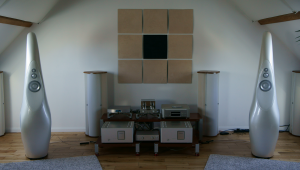 This article begins by explaining Joël's passion for his Vivid Oval K1's which paves the way into his informative review of the GIYA G1. He topped off the review with yet another award for the GIYA G1!
"…In my opinion that's unique to the Vivid experience. It's in fact the cause of my greatest addiction to this South African brand…
"…Vivid Audio and Laurence Dickie are about anything but marketing chat. That's important to highlight since many audiophiles stop short with Vivid's audacious form factors. Truly each step in the design of their speakers was guided by function…
"To my ears they represent the purity and perhaps essence of what I am looking for in the field of music reproduction: neutrality, clarity, transparency, liveliness and natural scale.
"To me the G1 appears to be one of the very best speakers I could buy today. I will thus take action. These will not fly back to Durban…"
Celebration time for Vivid Audio, On A Higher Note, and the worldwide distributor/dealer network, along with all the proud owners of Vivid Audio loudspeakers!
GIYA G3 snatched the ultimate accolade this year from Stereophile's POTY awards: Emerged as the winner for Stereophile Magazine's 2014 Overall Product of the Year Award, along with being the co-winner of Product of the Year Award in the Loudspeaker category, Vivid Audio's GIYA G3 is the only product that took first place in more than one category this year! (Source: Stereophile December issue 2014)
We were very pleased to be sharing the POTY award in the Loudspeaker category with Wilson Audio Specialties' "Alexia". Wilson Audio is a company we respect and we are humbled to have emerged as the overall winner. As most people know, Peter McGrath and I are close friends. We have spent countless evenings sharing music and listening to his sublime classical recordings. I want to congratulate our dear friend, Peter, on this prestigious award!
Excerpt from the POTY Overall award verbiage: "The G3 did more than merely earn JA's respect: it gave him immense enjoyment, and effectively doubled the field of contenders for the coveted title of John Atkinson's Retirement Loudspeaker…" – Read John Atkinson's G3 review..
If you would allow us to indulge, we want to celebrate by first expressing our gratitude towards everyone at Stereophile and the press community who have been rooting for us! Vivid Audio is not only a brand that we believe in but is a community for us. Starting from our coveted designer Laurence Dickie, our fearless leader, Philip Guttentag, the distributors/dealers network, along with proud owners of Vivid loudspeakers, we have fast become good friends and connect through Facebook. Other than On A Higher Note's facebook page, we connect through Vivid Audio's facebook page, and the Vivid Speakers Club page administered by our Korean counterpart. Follow/Like us and join our community. We look forward to making your acquaintance and deepening our friendship.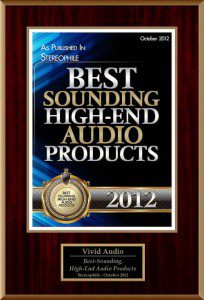 Looking back, this is the second Product of the Year Award in Vivid Audio's history (K1 won POTY in the Loudspeaker category for 2012 ) – Review.
Vivid Audio will be celebrating its 10th year anniversary soon and during the past decade, Vivid Audio's loudspeakers have been featured on the covers of the Stereophile Magazine three times: GIYA G3 this year, Oval B1 in October 2011 and GIYA G1, our flagship model for the July 2010 issue.
For fun, we lined up our collection of these magazine covers and took a picture.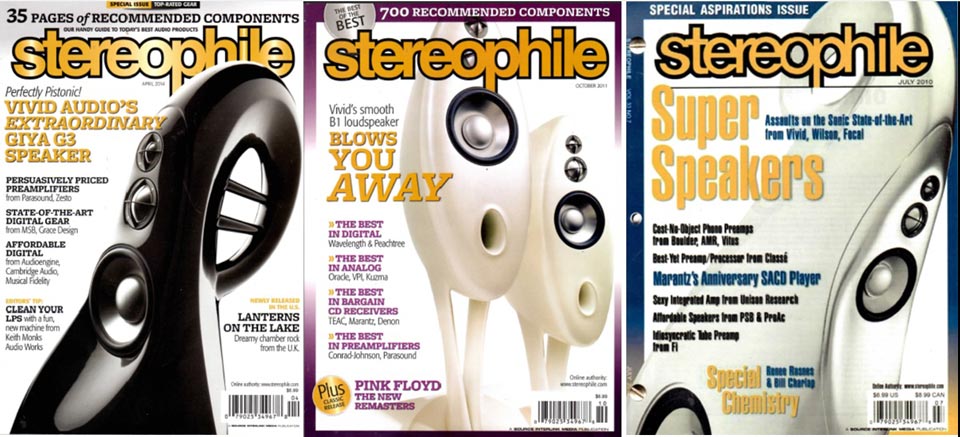 For an engineering-led company focusing in acoustics design first and foremost and industrial designs second, Vivid Audio's sole mission during the past decade has been to produce a transparent window to listener's musical performance. We look forward to unveiling our festivities for the Vivid Audio Decade Anniversary and vow to continue to earn your friendship and trust in the delivering the brand promise.
I think I hear champagne popping!
We are reposting this content extracted from Vivid Audio's Facebook page for readers that don't use Facebook. We encourage you to "Like" the page for up-to-date information, including upcoming Decade Festivities to celebrate Vivid Audio's 10th year anniversary!
"Notable from the outset was how authentic the G2s sounded: they had a knack of presenting their musical wares with such pace, presence and timing that the result was almost eerily real. The tonal range was expansive, but so superbly balanced that there was no sense of exaggeration or shortfall — just pure, musical cohesion…

"A common thread throughout every extended listening session, regardless of artist of genre, was the musical integrity, the outright accessibility and the enjoyment the G2s delivered. While they allowed even the most subtle of details to be clearly heard, they never let their revealing nature overshadow the intent and emotive appeal of the performance as a whole.

"The Giya G2s are versatile, too: they easily coped with the gritty, catchy rock of The Stereophonics on Graffiti On The Train, the soul-infused R&B of The Commitments on 'I Can't Stand The Rain' (one of many powerhouse tracks on this eponymous set), and the all-enveloping, synth-infused atmospherics of Vangelis on his greatest hits anthology, Reprise.

"The Vivid Audio Giya 2s are ground- breaking in design, and constructed to world-class standards. They exude innovation, not only in their aesthetic approach, but also (and more impor- tantly) as far as their bespoke drive units, composite enclosure and acoustic engineering are concerned. Best of all, they sound fantastic: tonally and spatially expansive, explicit in their treatment of detail and nuance, and musically enthralling."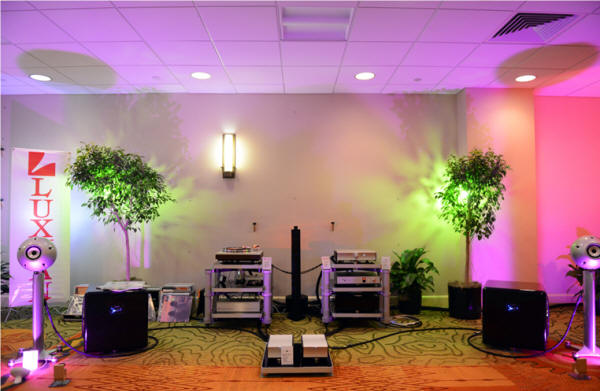 Excerpt from full post by David Robinson:
"I've been saying it for several years now: Philip O'Hanlon of On a Higher Note runs one helluva fine room at the shows I've visited. His choice in music is superb, involving LPs, SACDs, DSD, and even open reel tapes at times. The best version of Lou Reed's "Take a Walk on the Wild Side" was the one that I heard in Philip's room a couple of years ago, for example. (I'd still love to find that German EP!) His values are always elegantly musical, and his product lines reflect high quality without blowing the doors off of your Swiss bank accounts. (Yeah, you know which ones I mean.) There is always a fine return on investment with Philip's systems."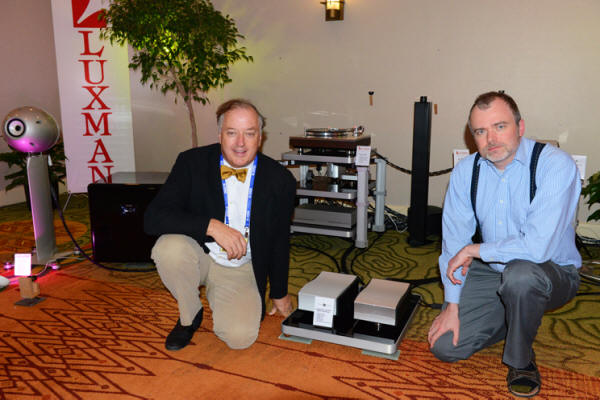 "This room really drew me in, and not just for the fine whisky and wine that was generously shared after hours on Saturday night. No, it was the new combination of equipment that I was not familiar with as a system, and that I was hearing together for the first time. I had been really taken with the Mola-Mola kit last summer at THE Show Newport Beach, where they won an Audio Oasis! Award in tandem with Vivid loudspeakers, but this time around Mola-Mola was running with the Eclipse TD-712z MK II loudspeakers ($10,600/pair) and a pair of the Eclipse TD725SW subwoofers ($6,400 each). Luxman was in evidence once again, with the DA-06 DSD DAC ($4,990); for analog, LPs were twirling on the Luxman PD-171 turntable, sporting the phenomenal Soundsmith Hyperion MM cartridge."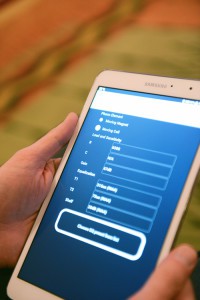 "The results were truly satisfying at the level of soul: LPs had the rightness of groove that made me sit back, unwind, and connect with the music. Dynamics were excellent, transparency was very fine, and the low frequencies were well in hand with the Eclipse subs, which were components that I hadn't encountered before. The integration of bass with midrange and higher frequencies was very nicely done…commendable. Further, this room had a really interesting holodeck-like effect, with surprising soundstaging and imaging…for reasons that I would discover.
You'll see in the photograph above one of the most remarkable things about the Makua preamp phono section: It was being controlled by an app on an Android pad! This app was the best thing that I've ever seen for controlling the parameters of LP playback. Bruno demonstrated this to me on the Android pad. It had all sorts of elements that you could select and change with the touch of a finger: Gain (via relay control), loading, mono or stereo, EQ, curves, cartridge type, etc., are all there. There were multiple stored profiles for just about every cartridge and just about every curve that's ever existed. This is an exciting marriage of digital controls with pure analog preamp operation, since the digital domain is used only to set parameters in the analog domain. No A/D is involved in the playback itself.
Damn. This is flat-out fantastic. Vinyl lovers everywhere really need to check the Makua with phono section out…killer stuff, amigos!
… My experience with the On a Higher Note room, on two separate occasions, sold me. This was definitely an Audio Oasis! winner, with a number of surprises for me.
As a result, I hope to be able to try a complete Mola-Mola system in the near future."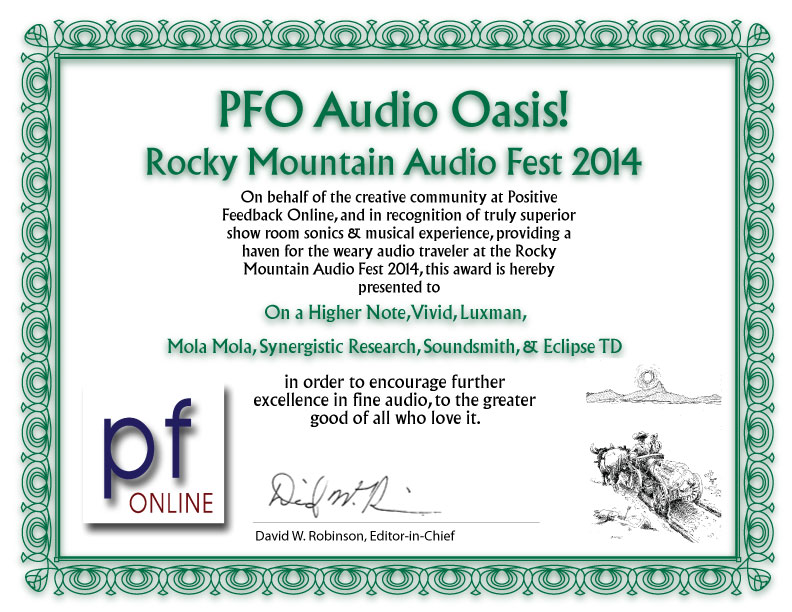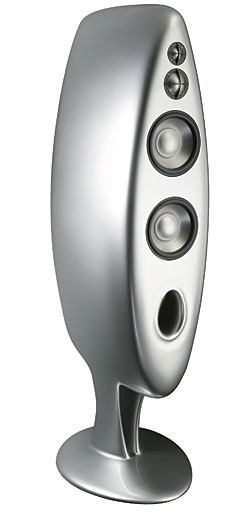 Loudspeaker of the Year Vivid Audio Oval K1 ($24,990/pair; reviewed by John Marks, Vol.35 No.10 Review)
"This race was tight. Of the 11 worthy contenders in our "Loudspeakers" category, seven—from the overachieving Joseph Audio Pulsar to the otherworldly MBL Radialstrahler 101E Mk.II—garnered first-place votes. But no loudspeaker impressed our writers more than Vivid Audio's Oval K1, an unusual-looking design with an unusually powerful and compelling sound… "<more>