Show report – Gryphon at AXPONA 2019 – It's like Munich High End in Chicago
April 12, 2019 @ 10:00 am

-

April 14, 2019 @ 5:00 pm

AXPONA
Room #1, Schaumburg C
Renaissance Schaumburg Hotel & Convention Center
1551 Thoreau Dr N | Schaumburg, IL 
April 12 – 14, 2019
Gryphon Audio Designs and On A Higher Note made a splash, taking Munich High End to Chicago, with active and passive display galore, a rare opportunity with all current Gryphon components in North America housed in one room.
We used this occasion to launch the new Ethos reference CD player with a built in DAC at N. America with worldwide debut at Munich High End in Germany the month after.  Visitors at AXPONA had the pleasure of seeing, touching, and listening to the first of Mr. Flemming Rasmussen's three retirement gifts to Gryphon before anyone else in the world could.
The Gryphon team that flew into Chicago was a well-oiled machine, consisting of its CEO Jakob Odgaard, Sales Director Rune Skov, Service Manager Niels Madsen, and his wife Maria.  They have every meticulous detail of the presentation down, situating the Ethos right at the front of the room, demanding its well-deserved attention.
"Daily half-hour closed door demo sessions scattered through the 3-day-exhibition, with … Rune … conducting specially curated music selections to show off Gryphon system's tonal texture, solid music presence with energy and substance for listeners to make that emotional connection rivaled by few," wrote Mr. Lee Scoggins from Partime Audiophile magazine, who continued, "at least we have men like importer Philip O'Hanlon and Rune Skov reminding us how great the sound can be with a full Gryphon system playing the humble, and still far from dead Compact Disc.  See full write up >>> Here >>>.
Our room is honored to receive the "Best Demo" nomination from "Lee's Best of Show | AXPONA 2019" write up.  Great team work! >>> See more here >>>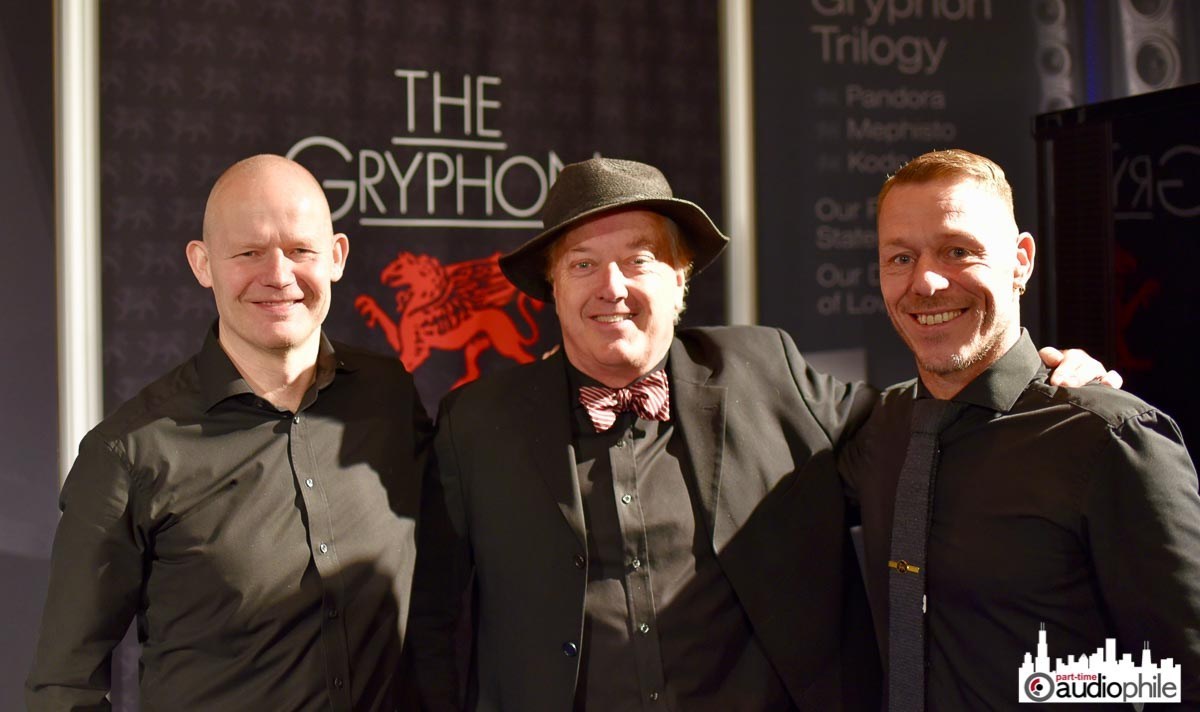 From our standpoint, the only negative was the huge amount of bleed through the adjacent KEF and B&W rooms with a 6″ gap between the airwall and the real wall on each side.  Despite that, the sessions were quite full and the closed door demos touched hearts with tears in welled-up eyes, waking raw emotions from the audience.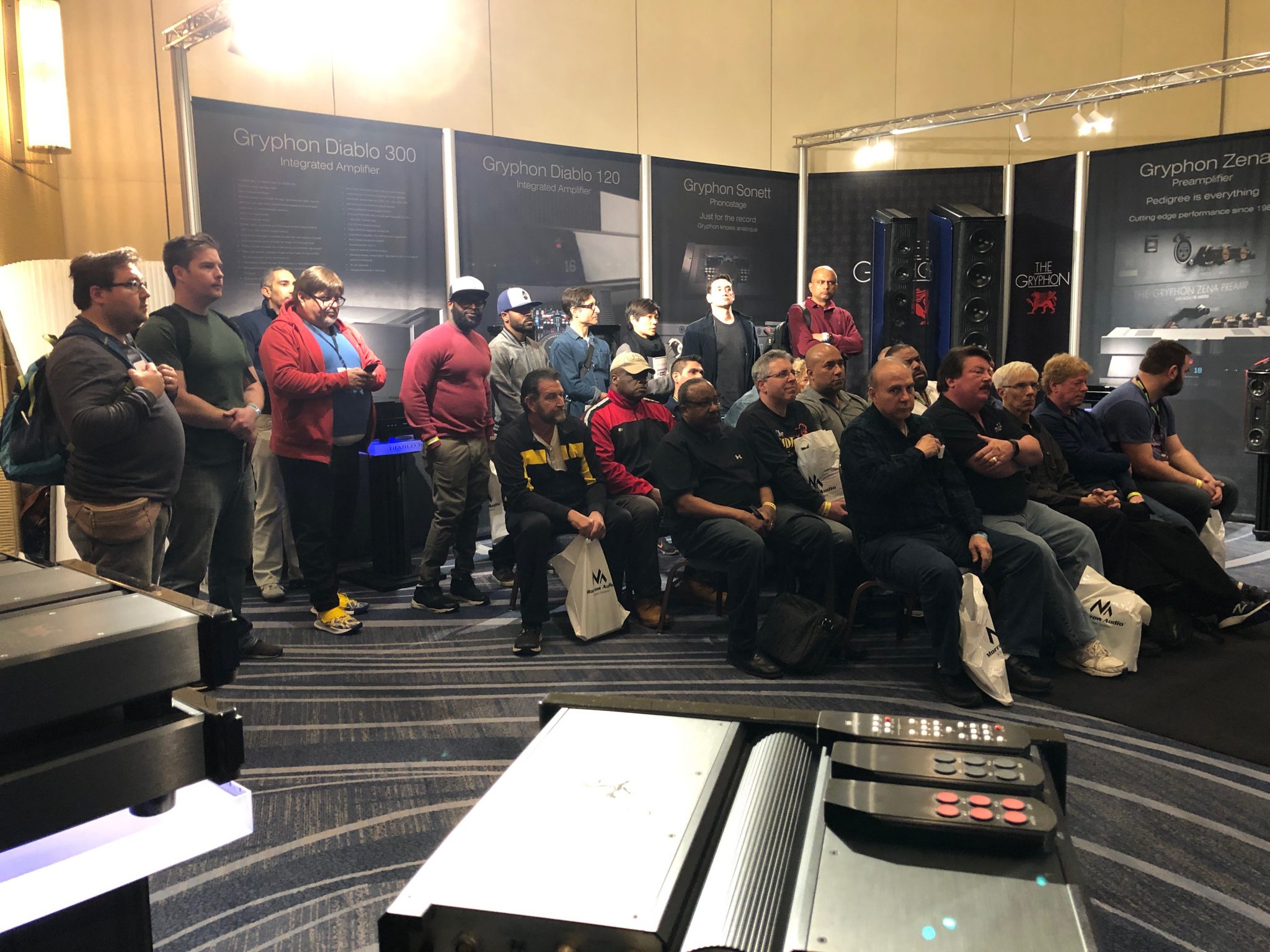 As Mr. Jim Austin from Stereophile magazine put it in his "AXPONA 2019: It's a Wrap" post, "The big Gryphon room combined huge scale with subtle shadings, sounding good despite the racket from the room next door."  >>> Read more here >>> 
Mr. John Valin from The Absolute Sound stopped by our "digital-only room".  The Trident II was  "exciting, detailed, beautiful… with exceptionally clean, full, deep and well defined on piano and standup bass…  its midrange had superb (albeit darkish) color and detail on sax, outstanding hard-transient response and very high resolution.." as Mr Valin put it in his "AXPONA 2019: Loudspeakers $20k and Up" report >>> here >>
The Clarks (Dave and Carol) from Positive Feedback also stopped by and posted some beautiful pictures in their photo journal, calling this a good time "to love our CDs again".  See more here >>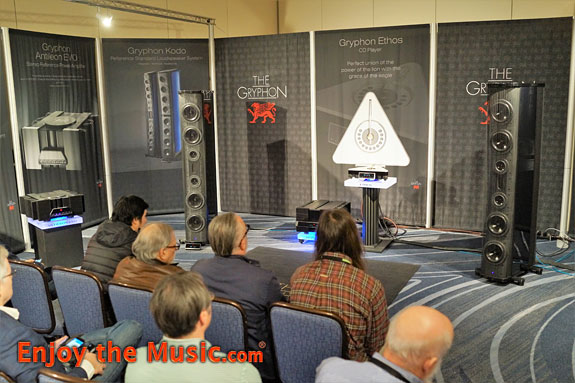 Mr. Rick Becker with Enjoythemusic.com captured the size of the stunning Gryphon Audio room with his wide angle lens and posted the above picture uncropped, naming Gryphon's Schuamberg Room C another Very Best Rooms at the show.  Go here for more photos and write up on his series.
Here's our equipment list for the show:
Active Display
Ethos CD player with built in DAC transport
Trident II
Mephisto Stereo
Pandora
VIP Series Cables
Passive Display
Kodo Loudspeaker System
Pantheon Loudspeaker System
Mojo S Monitors
Antileon EVO Amplifer
Colosseum Amplifier
Zena Preamplifier
Kaliope D to A Converter
Scorpio S CD Player
Diablo 300 Integrated Amplifier
Diablo 120 Integrated Amplifier
Legato Legacy SA
Sonett Phono Stage
VIP Series Cables
We want to thank everyone that stopped by for allowing us to indulge your senses for an all-Gryphon experience (minus the room bleed from the other rooms).  Please visit your nearest dealer or reach out to On A Higher Note for more information.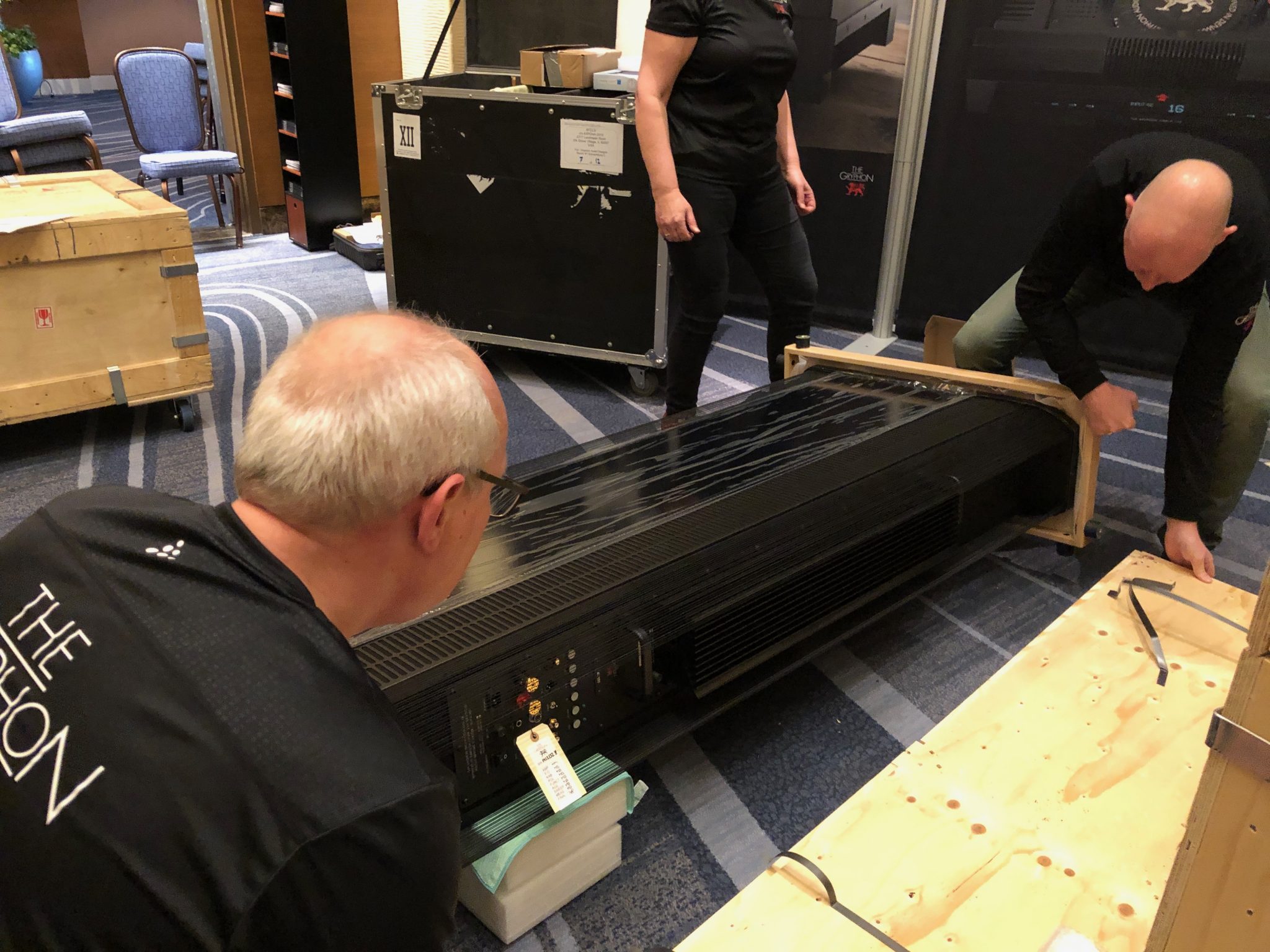 Set up and breakdown was a labor of love and a show of dedication to the Gryphon art.  See our coverage here for set up date.